US lifestyle diva sentenced to 5 months in prison
(Agencies)
Updated: 2004-07-17 10:21
Choking back tears and pleading for leniency, Martha Stewart was sentenced to five months in prison Friday for lying about a stock sale. But the woman who saw her gracious homemaking empire crippled over a single transaction smiled boldly into the cameras outside to denounce her treatment, pitch her company and vow: "I'll be back."
Stewart, who was also ordered to spend five months confined to her home and fined $30,000, was allowed to remain free pending appeal. The sentence was the minimum possible under federal guidelines.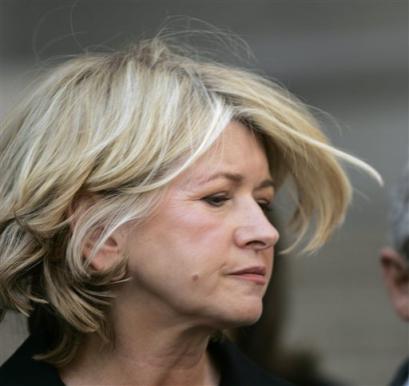 US lifestyle diva Martha Stewart appears outside Manhattan federal court after her sentencing Friday July 16, 2004. Stewart was sentenced to five months in prison Friday for lying about a stock sale. [AP]


Peter Bacanovic, the high-powered stockbroker who was convicted along with Stewart of lying about her stock sale in December 2001, received the same sentence of five months in prison and five months home confinement.

While she did not admit guilt in court — a move that could have jeopardized her appeal — Stewart took pains to tell U.S. District Judge Miriam Goldman Cedarbaum she was sorry that others had been hurt by the scandal. (Timeline of events in Stewart scandal )

"What was a small personal matter became over the last two and a half years an almost fatal circus event of unprecedented proportions spreading like oil over a vast landscape, even around the world," Stewart said.

Cedarbaum accepted a defense request to recommend to federal prison officials that Stewart serve her time at a minimum-security facility in Danbury, Conn., close to her home in Westport.

"I believe that you have suffered, and will continue to suffer, enough," the judge said.

But Cedarbaum, citing nationwide confusion over a recent Supreme Court ruling on sentencings, allowed Stewart to postpone the sentence while her lawyers appeal her conviction — a process that could take months, and that legal experts have called an uphill battle.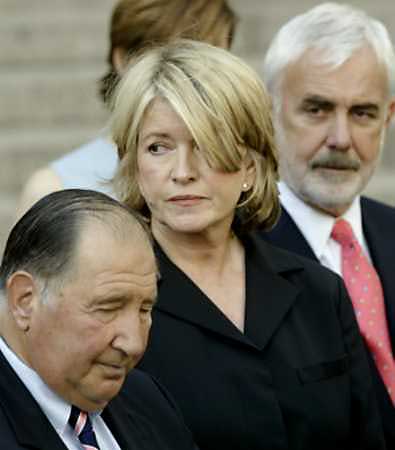 Martha Stewart stands with members of her legal team outside Federal Court in Manhattan after her sentencing July 16, 2004. Stewart was sentenced to five months in prison, two years of supervised release and a $30,000 fine after being convicted of lying about a suspicious stock sale. Attorney Robert Morvillo is at lower left. [Reuters]


Just before she was sentenced, Stewart — who during her trial spoke only to declare her innocence — rose from her seat and, her voice breaking almost to the point of sobs, told the judge she feared her life would be "completely destroyed."

Then, in an extraordinary change of demeanor, Stewart walked down the courthouse steps, approached a microphone and denounced the scandal as full of "such venom and such gore — I mean it's just terrible."

Smiling and showing her well-honed comfort with TV cameras, she even suggested fans could "continue to show your support" by subscribing to her magazines and buying her line of homemaking products.

And she vowed: "I'll be back. I will be back. Whatever I have to do in the next few months, I hope the months go by quickly. I'm used to all kinds of hard work, as you know, and I'm not afraid."

Investors sent the stock of Martha Stewart Living Omnimedia up 37 percent, or $3.17 to close at $11.81 on the New York Stock Exchange.

Stewart resigned as CEO of the company when she was indicted last year and gave up her seat on the board after she was convicted. She remains its leading creative force and holds the title of founding editorial director.

In a four-page letter to the judge on the eve of sentencing, Stewart touted her company's success and said she was still "abysmally confused and ill prepared for what is described to me as the next step in this process."

She pleaded for leniency: "My hopes that my life will not be completely destroyed lie entirely in your hands." It was signed, "Most sincerely, Martha Stewart."

Prosecutors also released the pre-sentencing letter they sent to the judge, a document that brushed aside defense claims Stewart and Bacanovic should get lighter sentences because of exemplary conduct in their lives.

"Most of the good works cited by both defendants — showing kindness and compassion for friends, family, staff and colleagues going through difficult times, and acting as a role model for others in their professional lives — are what one should expect of decent, hardworking people," they wrote.

The prison sentence punctuated a chain of events that began on Dec. 27, 2001, when Stewart, in a brief phone call from a Texas tarmac on her way to a Mexican vacation, sold 3,928 shares of ImClone Systems Inc., a biotechnology company run by her longtime friend Sam Waksal.

Prosecutors alleged that Bacanovic, now 42, ordered his assistant to tip Stewart that Waksal was trying to sell his shares. ImClone announced negative news the next day that sent the stock plunging. Stewart saved $51,000.

Stewart and Bacanovic always maintained she sold because of a preset plan to unload the stock when it fell to $60.

At his own sentencing, Bacanovic told Cedarbaum he deeply regretted "the pain and the sorrow" the case had caused his family, friends, colleagues and clients.

The star witness against the pair was Douglas Faneuil, a young former brokerage assistant who vividly described Bacanovic's order when he learned Waksal was trying to sell: "Oh my God. Get Martha on the phone."

But the verdict on March 5 — guilty on four counts apiece for Stewart and Bacanovic — set off a string of events nearly as dramatic as the trial itself.

In April, lawyers for both defendants accused one juror of lying about an arrest record in order to get on the trial. Cedarbaum denied a request for a new trial, saying there was no proof the juror lied or was biased.

And in May, federal prosecutors accused Larry F. Stewart, a Secret Service ink expert, of lying repeatedly in his testimony at the trial — mostly about the role he played in ink-analysis testing of a stock worksheet.

Just last week, Cedarbaum again denied new trials for Stewart and Bacanovic, this time saying there was "overwhelming independent evidence" to support the guilty verdicts.

The juror issue and the perjury charges against Larry Stewart, no relation to Martha Stewart, are expected to form the basis of Martha Stewart's appeal to the 2nd U.S. Circuit Court of Appeals.

Additionally, lawyers said Friday they will argue that prosecutors inappropriately suggested at trial that Stewart was charged with insider trading — a count never included in the indictment against her.

"The whole atmosphere of the trial was one about a crime that was never charged and never happened," said Walter Dellinger, a lawyer hired specifically to handle the appeal.

Defense lawyer Robert Morvillo had asked the judge for a sentence of merely probation and community service working with poor women. He said Stewart "knows she's not perfect" and deserved mercy.

"She has brought a measure of beauty to our everyday world with refined color schemes, floral arrangements, and culinary delights," he said. "She has stood for the values of quality and making products as perfect as possible."

Prosecutors, as they did when Stewart was indicted and throughout the trial, portrayed the case as a matter of preserving the integrity of government investigations.

"Citizens like Ms. Stewart who willingly take the steps to lie to officials when they are under investigation about their own conduct, those citizens should not expect the leniency that Ms. Stewart seeks," prosecutor Karen Patton Seymour told the judge.

The judge noted she had received more than 1,500 letters from Stewart supporters across the country pleading for leniency.

But she said a prison term was appropriate because "lying to government agencies during the course of an investigation is a very serious matter, regardless of the outcome of the investigation."




Today's Top News
Top World News

China to wage people's war against porn websites




Six Nobel winners named top science gurus




US delays seeking charges for ex-soldier




China to launch research station in Arctic




Sex slave sights subject of debate




Extreme weather takes toll across nation