Iraqi senior Sunni cleric calls for holy war
(Agencies)
Updated: 2004-07-17 08:59
A senior Sunni cleric called on his followers to launch a holy war against the US forces in Iraq and threatened to turn the hotspot city of Ramadi into a "graveyard" for American troops.
"I ask US President (George W.) Bush to withdraw from Iraq or else Ramadi will become a graveyard for US soldiers," declared Sheikh Akram Ubayed Furaih at weekly prayers in the city, 100 kilometres (60 miles) west of Baghdad.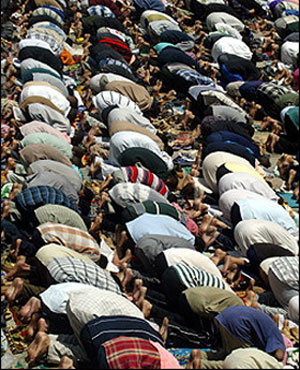 Iraqi Shiite Muslim worshippers perform Friday midday prayers in Sadr City. Among Iraq's majority Shiite community there came condemnation of the interim Iraqi government and fresh demands for the death of jailed dictator Saddam Hussein. [AFP]

"I call upon my brothers the Shiites and on all other religious groups to embark on a Jihad (holy war) against the US military to force them out of Iraq," said the cleric, who spent three months in a prison after being arrested by the US military and whose home was also raided last week.

"I urge all the Iraqi people to fight a holy war against the Americans," said the cleric, among the most respected figures in this Sunni rebel bastion.

Using slightly more moderate tones, two other Sunni clerics from the Muslim Scholars' Association spoke out against conditions in military detention centres run by the US-led coalition.

"We have received messages from inmates at Um Qasr (detention centre on the border with Kuwait) describing their suffering during this hot weather," said Ahmed Abdel Gafur Samarrai, addressing a crowd at the Um al-Qura mosque in Baghdad.

He called on the United Nations to intervene on behalf of the detainees.

"The United Nations must do something because it granted a legitimacy to the occupation, but this legitimacy has been lost due to the actions that have taken place," said Samarrai, referring to the thousands of Iraqis locked up on suspicion of involvement in the persistent insurgency that has dogged the 14-month US-led occupation.

Among Iraq's majority Shiite community there also came condemnation of the interim Iraqi government and fresh demands for the death of jailed dictator Saddam Hussein.

"We refuse to submit to terrorists and the occupiers are the worst of all the terrorists ... We denounce anything that is named by the occupier," said Sheikh Jaber al-Kafaji, speaking in the name of radical Shiite cleric Moqtada Sadr, in reference to the new administration.

Kafaji said he suspected the United States of wanting to release Saddam Hussein.

Washington "has started to prepare this by saying that he had no weapons of mass destruction and nothing to do with what took place in the United States," Kafaji said, referring to the terrorist attacks there on September 11, 2001.

In the holy city of Karbala, a representative of Grand Ayatollah Ali al-Sistani launched a harsh attack against Arab lawyers who have offered to represent the ex-president.

"It sickens us to see them rushing to defend this fallen man taking the dollars of his wife (Sajida Saddam Hussein). You have to cut off his head and this is the minimum that we want," he said.




Today's Top News
Top World News

Quarterly growth slowing slightly




Six Nobel winners named top science gurus




Indian school blaze kills at least 84




China to launch research station in Arctic




Extreme weather takes toll across nation




US to impose tariffs on Chinese products