Philippines pulls more troops from Iraq
(Agencies)
Updated: 2004-07-17 02:00
The Philippines worked Friday to meet the demands of kidnappers holding a Filipino truck driver, announcing it was withdrawing the head of its humanitarian mission in Iraq and a further 10 troops.
In a new message to the militants holding Angelo dela Cruz, Philippines Foreign Secretary Delia Albert said 11 soldiers were leaving for home Friday, reducing troop strength to 32. The pullout came despite criticism from the United States and Australia, who said the Philippines was sending the wrong signal to terrorists.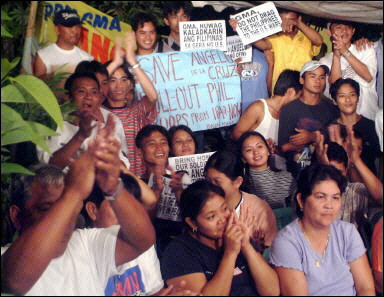 Relatives and friends of Filipino hostage Angelo de la Cruz applaud in his home town Buenavista as they watch a television report declaring that the 46-year-old captive will be released soon. The Philippines has announced that the country's military contingent in Iraq is being pulled out and the rest of the force will be withdrawn 'shortly' to secure his release. [AFP]


Al-Jazeera broadcast a video Thursday showing dela Cruz thanking the Philippines for the decision and no longer wearing the bright orange garment he wore in previous videos — an apparent sign that he is no longer under threat of death.

The Philippines had planned to pull its troops out by Aug. 20, but said Wednesday it would withdraw them early because of the kidnapping.

The decision was cheered at home but criticized by other members of the U.S.-led coalition.

"I don't want to be harsh on a friend, but it is a mistake and it won't buy them immunity," Australian Prime Minister John Howard said Friday. "It's a wretched state of affairs, but if you give in, it won't stop it happening again. You invite people to do it with increasing severity because they will know they succeed."

"If you give in, the game's over and they will increase the intensity of their attacks," he said.

White House press secretary Scott McClellan said Thursday the decision "sends the wrong signal to terrorists."

But in the Philippines, family members thanked President Gloria Macapagal Arroyo and lawmakers defended her decision.

"The United States will understand that any action on the part of the government would have our national interest as our primary consideration," Senate President Franklin Drilon told reporters.

"This is a judgment call on the part of the president," he said. "No foreign policy is altruistic."

Meanwhile, a decapitated body in an orange jumpsuit was found in the Tigris River in northern Iraq, the military said Thursday. There were suspicions it could be that of a Bulgarian driver taken hostage recently by Jordanian militant Abu Musab al-Zarqawi's terrorist group and slain.

Interim Prime Minister Iyad Allawi appealed to foreign governments to stand fast. Iraq's fledgling security forces are deeply dependent on the 160,000-member multinational force — led by the United States — for assistance in maintaining order.

"We hope and wish that all civilized countries and the international community, our neighbors and brothers in the Islamic world, close ranks really to fight terrorism, because God forbid any place they gain or they win is a disaster for the world on a global level," Allawi said.

In Baghdad, an explosion targeting a U.S. military convoy ripped through a residential neighborhood on Friday, the U.S. military and witnesses said. At least four Iraqi civilians were injured in the blast, said Iraqi Police Maj. Hashem Dawoud. No U.S. soldiers were reported injured.

Also Friday, attackers using machine guns and rocket-propelled grenades fired on an Iraqi police patrol, killing one and wounding another, police officer Ammar Naji told Associated Press Television News.

Iraqi authorities also forcibly removed members of a hard-line Shiite militia from a building that they were occupying illegally in Diwaniyah, 100 miles south of the capital, the U.S. military said Friday.

Members of the militia linked to Shiite cleric Muqtada al-Sadr were ordered out of the building by the provincial governor. When they did not comply, the governor ordered Iraqi National Guard and police forces to evict them, said Maj. Neal O'Brien of the 1st Infantry Division. U.S. troops provided security for the area from outside.

Al-Sadr's group has recently worked to bolster its credentials among other Shiite clerics by distancing itself from overt calls to arms and by eyeing a possible political role in the upcoming general elections in January.




Today's Top News
Top World News

Quarterly growth slowing slightly




Six Nobel winners named top science gurus




Extreme weather takes toll across nation




China to launch research station in Arctic




Hearing on gas blowout in Chongqing concludes




Sex slave sights subject of debate