77 children dead in Indian school blaze
(Agencies)
Updated: 2004-07-17 01:06
Rescuers frantically bashed holes through brick walls to try to save trapped children as a fire engulfed a thatched-roof school in southern India on Friday, killing 77 children.
The thatched roof fueled the flames before collapsing on the victims, police said. In one part of the school, charred bodies, their clothes burned off, covered the floor two and three deep.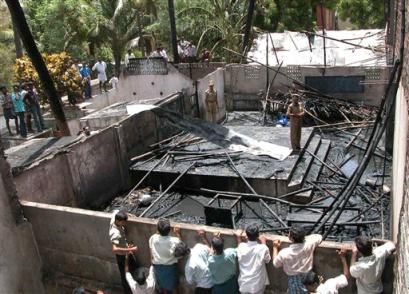 Police officers and residents look at the burned remains of a section of a school building in the town of Kumbakonam, about 215 miles southwest of Madras, India, Friday, July 16, 2004. The fire, that may have been caused by a short circuit igniting a thatched roof, killed at least 80 children and injured more than 100 others in a southern Indian Lord Krishna Middle School Friday, a local government official said. [AP]


"It is a horrible tragedy, you will lose your mind if you see the bodies," said housewife Rajalakshmi Subramaniam.

Police Deputy Inspector-General R.C. Kudawla told Reuters the deal toll was 77. At least 30 children were injured, many seriously.

The fire started in a kitchen where lunch was being prepared for hundreds of children and swiftly spread to the roof of the Lord Krishna school in Tamil Nadu state.

Many of the dead suffocated after being trapped on a narrow staircase leading to the ground floor. Charred school bags and open lunch boxes, many still containing food, littered the staircase and corridors hours after the fire was extinguished.

The school's narrow entrance also may have prevented some children from escaping the flames, witnesses said. Most of the victims were between eight and 10 years old, the Press Trust of India (news - web sites) quoted officials as saying.

"Parents are looking at their dead children. It is heartrending," said J. Radhakrishnan, the most senior official in the district.

"Thousands have gathered here," he told Reuters from the hospital. "It is a grave tragedy."

As thick, choking smoke billowed from the building, hundreds of volunteers joined firefighters battling their way through the crowd of anxious parents to bring out the dead and injured. Some punched holes in the walls to try to reach the children.

Others fought the blaze with hoses from which water barely trickled.

"Parents were crying, beating their chests and calling out for their children," said one witness, S. Kalidas. "People looked scared. They were running around for help and there was complete panic. It was a huge fire."

Sobbing parents gathered at the hospital in the town of Kumbakonam, 2,000 km (1,200 miles) south of New Delhi to hear a list of the dead read out over a microphone. Many collapsed as they heard the news.

"Parents are wailing as they try to identify their children's bodies, some of which are completely roasted," G. Srinivasan, a journalist with The Hindu newspaper, said from Kumbakonam.

"Some people are collapsing as bodies are being moved for cremation."

The fire at Kumbakonam, a dusty trading town on the banks of the Cauvery River famous for its temples, was the second major fire tragedy in the state this year. More than 50 people were killed in an inferno at a marriage hall in January.

Fires at India's overcrowded and dilapidated schools occur frequently, with safety regulations routinely flaunted.

In 1995, at least 400 people, most of them children, died when a fire destroyed a school in northern India.




Today's Top News
Top World News

Quarterly growth slowing slightly




Six Nobel winners named top science gurus




Extreme weather takes toll across nation




China to launch research station in Arctic




Sex slave sights subject of debate




Second human trials of AIDS vaccine to begin