'Open-crotch pants' make way for disposable diapers
(Women of China/Agencies)
Updated: 2004-07-16 15:56
One of the indelible images of China for foreigners is that of the cutie-pie baby wearing the pants with a giant hole on the bottom - known in Chinese "kaidangku" (literally "open-crotch pants").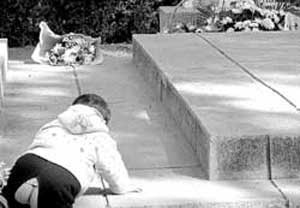 A baby wearing open-crotch pants crawls on the ground. Theose pants nowadays make way for disposable diapers. [file photo]

One might even catch a Chinese toddler relieving himself, right on the street. Visitors may find this disgusting, or delightful, but they may not see such sights any longer, at least in the cities.

China's famous split pants may soon be eclipsed by the disposable diaper. Urban consumers are deploying the diaper and making China one of the world's fastest growing markets.

Annual sales for some brands are climbing by 50 percent or more. Upscale stores are no longer carrying split-pants outfits, instead, shelf after shelf of diapers. Just about all of the babies who grace China's sleek parenting magazines are wearing diapers.

Maximum Convenience with Minimum Coverage

With a look of intense concentration on his face, 21-month-old Zhang Xueyang explores the playground, ducking under swings and slides as fast as his legs can carry him. Suddenly, he stops in mid-stride and squats, the seam of his pants parting smoothly to allow him to urinate on the concrete.

Zhang is able to pee thanks to kaidangku. Such pants have been popular in China for decades.

The principle is clear: no-fuss waste disposal. They're split down the middle-in front and back-and provide what many parents say is maximum convenience with minimum coverage.

But in recent years, with China's rapid economic development creating a growing middle class, rising incomes and more sophisticated lifestyles have pushed many parents, particularly those in big cities, toward disposable diapers.

'It's More Convenient and Healthier'

"Split pants? That's so old-fashioned!" said Annie Cao, who was shopping at a department store in Shanghai with her two-year-old daughter, Celine. "It's not hygienic. It's bad for the environment. Only poor people who live on farms wear them."

Celine, naturally, wore diapers before she was toilet-trained. But when Cao, 37, was asked what she herself wore during infancy, she paused, then smiled. "I don't remember," she said. "Maybe the split pants."

Dai Yuhua, 33, who runs a fruit store in Shanghai, said, though, that when her first child, now 11, was a toddler, Dai did not know that disposable diapers existed. But now, with her one-year-old second child, she uses the split pants only on extremely hot days.

In the late 1970s, when Mao-suit grays and dark blues were the norm for adults, children's vividly hued kaidangku were the only splashes of color on Beijing's drab streets.

But in Beijing these days, bare baby bottoms are an increasingly rare sight-even on sultry summer afternoons, when kaidangku used to be almost a uniform for toddlers.

"They're so uncivilized," said Su Shaojuan, a cashier from the southern city of Guangzhou who has a two-year-old son. "People nowadays have more money, so they use diapers. It's more convenient and healthier for the child and parents."

Part of it is undoubtedly purely hygienic, a byproduct of the Chinese government's years-long effort to spruce up its urban areas and, it says, steer people away from unclean practices.

Many cities have outlawed indiscriminate garbage dumping, public urination by adults and street spitting. And a country that's inviting the world in for the Olympics in 2008 hardly wants visitors to see public spaces used as toilets.

At the New Mommy Post-Delivery Care Center in Beijing, new mothers are advised to use diapers regardless of cost, said Zhang Yue, head nurse of the facility.

"They're cleaner, healthier and disposable. Babies wearing the split pants are easily catching a cold, diarrhea and even suffering urethritis," Zhang said.

Zhao Zhongxin, a professor at Beijing Normal University's Education Science Research Institute, goes even further: The split pants, he says, have become a social indicator of sorts.

"Children in the cities do not wear kaidangku anymore. But children in the countryside still do," Zhao said. "This is the difference between the minds and living conditions of rural people and urban people."

"In the past, people did not have a strong sense of hygiene," he said. "Now parents are usually very busy and do not have time to help the children to relieve themselves."

Disposable Diaper Sales Have Risen Sharply in China

These days, China's disposable diaper market is well over $200 million a year, and surging, particularly in Shanghai, Beijing and Guangzhou.

At a branch of the Jingkelong supermarket chain in Beijing, hundreds of multihued diaper packages are piled atop each other in one aisle and brightly patterned samples are on display. Prices range from about $1.80 for a package of 20, to $12 for 60.

"They're more popular in winter because it's too hot in summer," said a sales assistant who would give only her family name, Li. "They may not be as comfortable as kaidangku, but the standard of life is rising and sales are rising with it."

Kimberly-Clark, producers of Huggies, estimates that sales in the entire China market are growing by 20 to 40 percent each year. Procter & Gamble says its annual sales of Pampers, introduced in China in 1998, are growing by better than 50 percent. Its own research indicates that 50 percent of babies in Shanghai now wear diapers during the day, and 90 percent at night.

"Pampers promotes overnight dryness, and it helps baby to have a good night's sleep," said Yvonne Pei, associate director of external relations for Procter & Gamble in China. "If baby doesn't have good sleep, baby doesn't have good mental development."

Unicharm, a Japanese company that produces the popular Mamy Poko brand, said in its 2002 report that it intended to invest in a new plant in Shanghai to make diapers.

About a dozen domestic companies now distribute diapers widely, too. One Shanghai company, Goodbaby, started selling diapers in 1998, and later added a toll-free information line. Typical questions dealt with how to change a diaper and how long a baby should wear a diaper before a change.

"We are trying to change people's thinking about diapers," said Tang Xiaoyun, a sales and marketing assistant for Goodbaby. "Some people, especially farmers, may think they are too wasteful."

Or too expensive. Though diapers are slightly cheaper here than in the United States, the average cost of about 15 to 20 cents each remains unaffordable for many Chinese. In the first half of 2003, the per capita income of urban residents was $520, while in rural areas it was $139.

But some people still swear by split pants. One mother from Zhejiang, who was watching her child frolic on a commercial strip, said split pants were more comfortable for the children and helped prevent diaper rash.
Mrs. Wu, the 21-month-old Zhang Xueyang's mother, remains unconvinced. "Even if people don't think it looks good, that's a minority opinion," she said. "This is a Chinese tradition."
| | |
| --- | --- |
| | |
| Three generations of Presley women | |

| | |
| --- | --- |
| | |
| Karen Mok represents cosmetic products | |

| | |
| --- | --- |
| | |
| Eyes on me: Faye Wong | |
Today's Top News
Top Life News

Economy grows 9.7% in the first half of the year




China backs UN Security Council expansion




China bans selective abortion to fix imbalance




China Netcom to apply for US$1.5b IPO in US




Teflon-coated pans barred from shelves




Gangsters laundering money face tougher law