Philippines begins Iraq pullout to save hostage
(Agencies)
Updated: 2004-07-16 11:38
The Philippines began to pull out troops from Iraq Friday to save the life of a Filipino hostage and was promptly accused of giving in to militants by U.S. ally Australia.
Hours earlier, Iraqi police found a headless corpse in the Tigris river dressed in an orange jumpsuit like those often worn by foreign hostages in video tapes released by militants.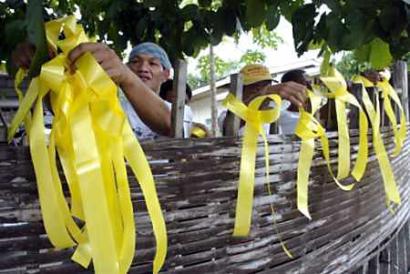 Filipino residents tie yellow ribbons outside their homes while awaiting the return of kidnapped Filipino worker Angelo de la Cruz in the Philippines' northern Pampanga province July 15, 2004. The Philippines' military awaited orders on Thursday to pull out of Iraq in a bid by Manila to save the life of the civilian Filipino hostage as the U.S. piled pressure on east Asian allies not to cave in to militants' demands. [Reuters]

It was not known whether the body was that of a Bulgarian hostage killed by his captors earlier this week.

"The Philippine government has recalled the head of the Philippine humanitarian contingent in Iraq. He is leaving Iraq today with 10 members of the Philippine humanitarian contingent," Foreign Affairs Secretary Delia Albert said in a televised broadcast.

Washington had tried to persuade its Asian ally not to bow to the demands of militants who threatened to kill Filipino truck driver Angelo de la Cruz. Some analysts said the pullout would severely strain Manila's relations with Washington.

Australian Prime Minister John Howard said caving in to militants' demands would not give Manila immunity from attack.

"I don't want to be harsh on a friend but ... it's a mistake and it won't buy them immunity," he told Australian radio.

"It's a wretched state of affairs, but if you give in, you won't stop it happening again -- you will invite people to do it with increasing severity."

De la Cruz told his family in a videotaped message he would be returning home. "Wait for me, I'm coming back to you," Al Jazeera said in its translation of his remarks Thursday.

But the group holding him said it would only free him after Manila withdraws its last soldier, a statement read by the Arabic satellite channel said.

In the village of Mexico north of Manila, relatives prepared a homecoming for the father of eight.

Men from the village set up a big tent and posted signs to de la Cruz's house. The area was decked out with yellow ribbons.

"We just want him to be able to go home," said his younger sister Beth Cayanan.

HEADLESS BODY FOUND

Bulgaria watched a deadline for the execution of a Bulgarian hostage pass without news Wednesday but stood firm on its pro-U.S. policies and refused to pull out its troops.

Militants linked to al Qaeda ally Abu Mussab al-Zarqawi have killed one of two Bulgarian truck drivers held hostage and are threatening to execute the second.

Guerrillas holding an Egyptian truck driver Thursday gave his Saudi employers 48 hours to show they would meet demands to quit Iraq. The Saudi transport company has said it would pull out to save the driver from execution, but has not given a date.

The U.S. military said Iraqi police had pulled a headless body out of the Tigris River Wednesday night, but could not confirm whether it was one of the missing hostages.

"The body had been decapitated. It was dressed in an orange jumpsuit," a military spokeswoman said.

Guerrilla video tapes of foreign hostages in Iraq have often shown them wearing orange jumpsuits, which are typical of U.S. jails and associated around the world with images of Muslims detained at Guantanamo Bay.

In a blow for another U.S. ally, British Prime Minister Tony Blair lost a key parliamentary by-election and narrowly avoided another in the wake of a damning report into the government's use of intelligence on Iraq.

Both Leicester and Birmingham, where the elections were held, have large Muslim communities, making them prime candidates for an anti-war backlash.

NEW SPIES TO TACKLE INSURGENCY

Iraq's interim prime minister announced the formation of a new spy agency to tackle the militants Thursday.

Iyad Allawi said he hoped the General Security Directorate would infiltrate and expose those behind an insurgency that has raged since U.S.-led forces toppled Saddam Hussein last year.

"We are determined to bring down all the hurdles that stand in the way of our democracy," Allawi told a news conference. "Terrorism will be terminated, God willing."

Hours earlier in the town of Haditha, officials said 10 people were killed and 40 wounded when a car bomb exploded near the main police station. The blast damaged a municipal building and a bank in the town, 200 km (125 miles) northwest of Baghdad.

A car bombing in Baghdad Wednesday, which killed 11 people, was the first big guerrilla attack in the capital since the interim Iraqi government took over from U.S.-led occupiers on June 28.

Allawi said security was improving despite fresh attacks.

The prime minister did not give specific details on what functions the new security body would carry out, but he said it would function under the judicial system.

For many Iraqis a new spy agency may have overtones of the Mukhabarat, Saddam's feared domestic intelligence agency which for decades kept tight tabs on the nation, but Allawi said it was for the good of the country.




Today's Top News
Top World News

Economy grows 9.7% in the first half of the year




China backs UN Security Council expansion




China bans selective abortion to fix imbalance




China Netcom to apply for US$1.5b IPO in US




Teflon-coated pans barred from shelves




Gangsters laundering money face tougher law