Beijing man sues Nike over copyright
By Liu Li (China Daily)
Updated: 2004-07-16 08:53
Claiming copyright infringement, a Beijing designer is suing Nike over a television ad broadcast around the world.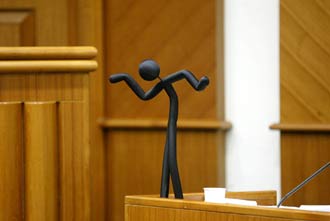 Nike's stickman.
"The stickman in a recent advertisement of Nike pirated a logo of my serial Flash works," the 28-year-old Zhu Zhiqiang said.
Flash is computer software often used to design cartoon characters.
The Beijing No 1 Intermediate People's Court held the first hearing Thursday.
Sources with the famous sports wear company denied the charge.
"The small man figure created by the plaintiff and his gestures are absolutely different from Nike's stickman," said Nike's lawyer Zhang Zaiping.


Stickman designed by Zhu Zhiqiang.

Zhu, who is also known as Xiaoxiao on Internet, asked for 2 million yuan (US$240,000) in compensation from Nike as well as public apologies.

"I was told by friends last year that my logo had been used by Nike in its advertisement overseas," he said.

The ad was also broadcast in domestic television stations, Zhu said.

"My commercial interests out of the logo, which was registered in the year 2000 for copyright protection, have been severely damaged due to Nike's illegal use."

Zhu said he was negotiating with a publisher to release a book based on the birth of the little man logo when the Nike advertisement was first broadcast in Beijing last year.

"Negotiation stopped due to the advertisement," he said.

Zhang, the intellectual property rights (IPR) agent representing Nike, said in court Thursday that Nike takes IPR very seriously.

"As one of the world biggest sports wear producers, Nike is devoted to protection of IPR and respects others' rights."

He said the stickman was independently designed by the advertisement company Wieden & Kennedy in 2002. Nike spent some 25 million yuan (US$3 million) on the design.

"According to agreement between Nike and the designer, Nike owns the copyright of the advertisement," Zhang said.

"It is obvious that the plaintiff intended to promote himself and his Flash works by accusing a famous multi-national company," he said.

Zhu did not deny the charge yesterday but said Nike wanted to use the logo to enhance the company's popularity among young people.

"This is because my logo and works are well-known in that group," he said.

Zhu first started using the small stickman in 1989 when he was still a student, the indictment said.

He said he was one of the first people in China to use Flash.

"My Flash works are so warmly welcomed by netizens that I have received more than 30,000 letters from them since 2000," Zhu said.

Nike, however, holds Zhu's stickman cannot be protected by copyright because it lacks originality, Zhang said.

The law says originality refers to independent design, instead of copying others' works or images in public domain, he said.

"From mural and stone paintings in ancient times to Sherlock Holmes stories, the logo has been used repeatedly," he said.




Today's Top News
Top China News

China supports to expand UN Security Council properly




Meeting challenges of a huge population




Wanted: Home-made cartoon blockbusters




Teflon-coated pans barred from shelves




Gangsters laundering money face tougher law




Beijing man sues Nike over copyright