Blair loses one seat, nearly two, as Iraq bites
(Agencies)
Updated: 2004-07-16 08:38
British Prime Minister Tony Blair's Labour party lost one key parliamentary by-election and narrowly avoided defeat in another Friday in the wake of a damning report on Iraq.
The results may stir further speculation about the British prime minister's grip on power with a general election expected in less than a year.
The minority Liberal Democrats won the central England seat of Leicester South by more than 1,600 votes from the ruling party, which held it with a 13,000-plus majority at the 2001 general election.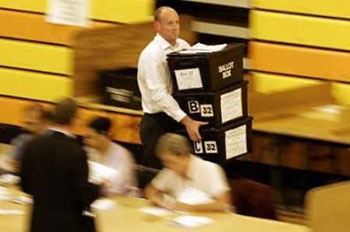 Ballot boxes are carried into the count center during a by-election in the Leicester south constituency, central England, July 15, 2004. [Reuters]

In the city of Birmingham, Labour just won the Hodge Hill seat by 460 seats from the Liberal Democrats, its 2001 majority of 11,000 all but wiped out.

"The justification which Tony Blair gave for backing George Bush was wrong," the Liberal Democrats' Parmjit Singh Gill said in his victory speech in Leicester.

"The people of Leicester South have spoken for the people of Britain. Their message is the prime minister has abused and lost their trust. He should apologize and he should apologize now."

Both constituencies had large Muslim populations, making them prime candidates for an anti-war backlash. The LibDems campaigned hard on Iraq and have consistently opposed the war.

Blair's public trust ratings have plunged since he took Britain to war in Iraq last year. Wednesday's report into intelligence failings on Iraq gave his anti-war critics fresh ammunition.

Former cabinet secretary Lord Butler absolved Blair of distorting the intelligence but said Baghdad had no significant stores of chemical or biological weapons ready for use, flatly contradicting Blair's pre-war claim that it did.

The losses make barely a dent in Blair's 161-seat House of Commons majority but will deal a severe blow to the morale of Labour, still reeling from internal turmoil created by the Iraq war, which many supporters and members opposed.

BAD FOR BLAIR, WORSE FOR CONSERVATIVES?

Once Labour's best electoral asset, Blair barely featured in either campaign but national opinion polls suggest he should still win next year's expected general election.

An opinion poll by Populus last week gave Labor 33 percent, the Conservatives just 29 percent. Analysts say the opposition party should be polling far ahead of their governing opponents, on over 40 percent, to harbor real hopes of regaining power. Friday's results are if anything worse for the Conservatives than they are for Blair.

They remain the only party that can beat Labor in a general election but were pushed into third place in both seats.

"This is a disaster for Michael Howard ... Once again tonight he has failed to make a breakthrough," Labour's victorious Liam Byrne said in Birmingham.

The Conservatives point to last month, when Blair's party was soundly beaten in both European parliament and local council elections, polling way behind the opposition Conservatives in both and finishing third behind the Liberal Democrats in the latter.

"The Conservatives have just about got out of base camp but they are still a long way from the electoral summit," veteran pollster and pundit Peter Kellner told Sky Television.

Birmingham Hodge Hill became vacant after the sitting member resigned while the Labor representative for Leicester South, Jim Marshall, died earlier this year.




Today's Top News
Top World News

China supports to expand UN Security Council properly




China bans selective abortion to fix imbalance




Wanted: Home-made cartoon blockbusters




Teflon-coated pans barred from shelves




Gangsters laundering money face tougher law




Beijing man sues Nike over copyright