Iraq PM announces formation of spy agency
(Agencies)
Updated: 2004-07-16 08:32
Iraq's interim prime minister announced the formation of a domestic spy agency Thursday in a bid to uncover insurgents carrying out daily attacks on U.S.-led troops and Iraqi forces.
Speaking at a news conference, amid a surge in violence in Iraq, Iyad Allawi said he was forming the General Security Directorate, a domestic intelligence network, which would attempt to infiltrate and expose those behind the insurgency.
"We are determined to bring down all the hurdles that stand in the way of our democracy ... terrorism will be terminated, God willing," Allawi said.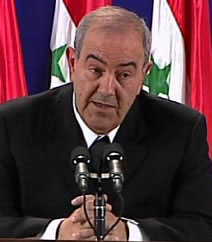 Interim Iraqi Prime Minister Aya Allawi announces plans for a new intelligence network. [cnn.com]

For many Iraqis a new spy agency may have overtones of the Mukhabarat, Saddam Hussein's feared and powerful domestic intelligence agency which for decades kept tight tabs on the nation, but Allawi said it was for the good of the country.

The prime minister, whose government regained sovereignty from the United States on June 28, said security was gradually improving and said he had been working hard to boost border controls to prevent foreign insurgents entering the country.

Last week, Iraq and Syria agreed to work to tighten controls along their long desert border and Allawi said he would shortly make a tour of neighboring Arab and Islamic states to discuss issues including border security.

Allawi said he would leave on a visit to Jordan, Syria, Kuwait, Lebanon, Saudi Arabia and Egypt next week, and afterward make a trip to Iran, Pakistan and Europe.

He said he had exchanged letters with Iraq's six neighbors about border security, one of the most pressing issues over the past 15 months amid suggestions that foreign fighters have been entering Iraq across porous borders to join the insurgency.

At the same time, and in another move to bolster the U.S.-led multinational force battling the countrywide insurgency, the prime minister said he had invited India, Pakistan, Egypt, Oman and Morocco to contribute troops.

Jordan has already offered to send forces to Iraq, but Allawi said that while he was keen to strengthen relations with all Iraq's neighbors, he would not use neighbors' troops.

Allawi was speaking hours after a car bomb attack in a northwestern town killed 10 people and wounded 30. Wednesday, a suicide car bomb attack in Baghdad killed 11 Iraqis.

The announcement of a new domestic spy agency comes days after the government introduced a national security law that allows it to impose emergency measures, such as curfews, anywhere in the country deemed too insecure.




Today's Top News
Top World News

China supports to expand UN Security Council properly




Meeting challenges of a huge population




Wanted: Home-made cartoon blockbusters




Teflon-coated pans barred from shelves




Gangsters laundering money face tougher law




Beijing man sues Nike over copyright