The 1980s prince of poetry in poverty now?
(Beijing Weekend)
Updated: 2004-07-15 15:35
In China today, when you mention the word "poet," most people think of something far away, distant from their own lives.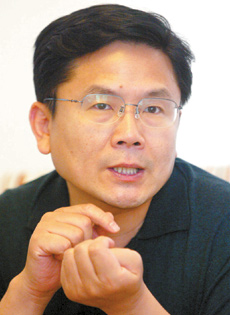 Once dubbed "the prince of poetry," Wang Guozhen has been forced to open a new chapter in his life. [Beijing Weekend]

Nowadays, relatively few people enjoy reading poetry and so there are correspondingly few people engaged on the production side. Supply and demand.

If recent media reports are to be believed, Wang Guozhen, 48, appears to be a classic example of a poet suffering from what might be termed the current slack season. But in the late 1980s and early 1990s, it was a different story.

Wang's present-day plight hit the Chinese media with reports that he was living in poverty because he had no means to support himself other than his poetry and calligraphy.

The news came as a surprise to those who could remember Wang's glory days. Indeed it also came as a surprise to Wang...

Wang is one of the few poets of the past 50 years still remembered by a large number of people here, especially among young people who were born in the 1960s and 1970s.

After graduating from Guangzhou-based Jinan University as a literature major, Wang started writing poetry in 1985. His poems were often published in magazines and newspapers.

What was the appeal?

For one thing, all of Wang's poems are very simple to understand and embody profound philosophical truths. They generally embody an optimistic attitude to life and glorify the beauty of love. As a result, Wang's fans were mainly students in colleges and middle schools.

Looking back, Wang said: "Around 1990, China was experiencing ideologically turbulent times. My poems were enjoyed by students thanks to the simple but thoughtful content. Many students choose one of my poems as their motto."

Remarkably, before April 1990, Wang had not even published his collection of poems. Most spread by handwritten copies among students.

"In a class, a teacher would sometimes find her students did not care what she was talking about in front of the blackboard because they were busy writing something," Wang recalled. "The teacher learned my poems were favoured by students and copied by hand across China."

With the help of friends, Wang published his first collection of poetry, Tide of the Youth, in April 1990. In just a few months, the collection had been reprinted five times with 150,000 copies produced. It was one of the top 10 bestsellers in 1990. Indeed 1990 was dubbed the "year of Wang Guozhen" in publishing circles.

The following year, Wang's collections Wind of Youth, and Thoughts of Youth were published.

In just two years, his collections sold in excess of 1 million copies. That inevitably lead to Wang being dubbed the "Prince of Poetry."

Yet two short years later, his name started to fade from the spotlight.

Indeed he only came to prominence again in 2002 when the Chinese media splashed stories about his reported poverty. The downturn in his fortunes, said the media, had forced him to make a living selling his calligraphy.

The hard times first hit in 1996. The income from his poetry could not support his family, according to reports at that time. Wang had opened a hotpot restaurant in Beijing with financial help from his friends, playing on his fame among Chinese people.

Unlike his gift for poetry, however, Wang did not do so well in catering to the appetites of the capital. Before long, the restaurant was shut down.

But the quirky story has taken another bizarre twist with Wang himself stepping forward to set the record straight.

Responding to claims about his poverty, he said: "I think I lived well in past years. Don't believe all that sheer nonsense." Indicating his newly bought apartment, he asked: "Does it look like I am poor and in debt?"

Wang recently moved into the apartment in the south end of downtown Beijing. He says it set him back 600,000 yuan (US$72,290).

He brought a lawsuit against sections of the media which first reported his "poor" life. His aim is to safeguard his reputation.

"They failed in the lawsuit and had to apologize to me," Wang said. "Furthermore, they were asked to pay 20,000 (US$2,409) for the damage to my fame and intellectual suffering."

Though Wang won the case in the court, it could not disguise the fact his star had dimmed. He tried to make a comeback in 2001 by promoting his new Wang Guozhen's Collection of Poems and Prose. Few people bought the collection.

Indeed Wang now seems to accept that people now do not enjoy modern poems as they once did. Since 1995, he began another artistic career: calligraphy.

Wang is often asked to contribute calligraphy for a brand name, hotel or scenic spots. It earns him an income.

"People lost interest in poems because of the flourishing of various arts," he lamented.

But he also insists that modern Chinese poets should also bear some responsibility for the current downturn.

"It is very difficult to understand the meaning of many poems," Wang said. "Today's poets seem to agree that the more obscure and unintelligible, the better their poems are. They even think that only those poems which can be understood by people after 100 years, are the real poems indicating great poets."




| | |
| --- | --- |
| | |
| Karen Mok represents cosmetic products | |

| | |
| --- | --- |
| | |
| Eyes on me: Faye Wong | |

| | |
| --- | --- |
| | |
| Rome's Fashion Week | |
Today's Top News
Top Life News

Premier: Economy generally good, but has pitfalls




Warning sounded on possible floods




Most polluted cities in China blacklisted




Home-made explosive kills 16 in Shanxi




Police crack decade-old murder case in Xi'an




US$29b deals signed on 1st day of PPRD fair