US Democrats' Convention cry: 'Where is Hillary?'
(Agencies)
Updated: 2004-07-15 09:04
Failing to give U.S. Sen. Hillary Rodham Clinton a prominent speaking role at the Democratic National Convention is a "total outrage" and "very stupid," the former chairwoman of the New York State Democratic Party and a major fund-raiser said Wednesday.
"It's a slap in the face, not personally for Hillary Clinton, but for every woman in the Democratic Party and every woman in America," said Judith Hope.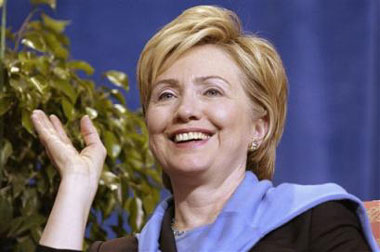 U.S. Sen. Hillary Clinton reacts to a comment by former Secretary of State Madeline Albright during a panel discussion before alumnae at Wellesley College, June 5, 2004, in Wellesley, Mass. in this June 5, 2004 file photo. [AP/Fiel]


The New York Democrat said she would appeal to Democratic presidential candidate John Kerry to "correct this omission" and would send e-mails to more than 1,000 New York women — "many of them major donors to the Kerry campaign" — complaining about the slight.

The Kerry campaign said the former first lady would have a non-speaking role at the convention, appearing on stage with other women senators on July 26, the opening night of the four-day gathering in Boston.

"We are pleased that Senator Clinton will be part of a very special segment featuring all the women senators on Monday night," said Kerry campaign spokesman Luis Vizcaino. "Senator Barbara Mikulski will speak on behalf of the group for this segment. The group as a whole decided how they would like to participate in the convention."

Clinton told a Binghamton, N.Y., radio station that she wasn't disappointed.

"I've had many opportunities in the past," she told WNBF radio. "I'm not at all deterred from going and being part of this exciting convention."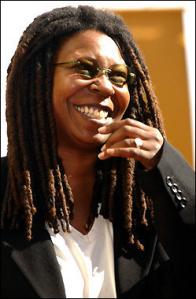 The diet products company Slim-Fast pulled its ads featuring comic Whoopi Goldberg, seen here in 2001, because of her raunchy rant at President George W. Bush at a Democratic fundraiser last week. [AFP/File]

On Tuesday, Kerry aides announced a prime-time speaking lineup that included, among others, former Presidents Carter and Clinton, former Vice President Al Gore and Christie Vilsack, wife of Iowa Gov. Tom Vilsack. The list did not include the former first lady and New York's junior senator.

"To include the wife of the governor of Iowa, who I'm sure is a wonderful woman, and to not include Hillary Clinton is just such a glaring injustice," Hope said.

"It is, frankly, very stupid," she added.

In May, Kerry campaign officials had said both President Clinton and his wife would play prominent roles at the convention.

"It's a total outrage," Hope said. "Women all over New York state and all over America are being asked to carry a very heavy responsibility for winning this election for the Democrats."

Clinton has been campaigning across the country for Kerry and has become one of the campaign's major fund-raising attractions.

"Hillary Clinton has been a team player for this ticket from Day One," Hope said.

Veteran Democratic strategist Hank Sheinkopf said Kerry simply wanted to have the spotlight on him.

"They don't want to Clintonize the convention," he said.

If Kerry falters this year, his running mate, Sen. John Edwards, and Clinton would be seen as the top candidates for the 2008 Democratic presidential nomination.

Democratic National Committee Chairman Terry McAuliffe said Clinton is happy with the lineup of speakers and agreed to appear on stage together with other women senators.

"This is a non-issue," he told CNN's "Inside Politics."




Today's Top News
Top World News

Premier warns of economic pitfalls




Warning sounded on possible floods




Most polluted cities in China blacklisted




Annual trade fair kicks off in Guangzhou




Sino-US relations improving: diplomat




Agreement ends first complaint at WTO