UK probe raps Blair's pre-Iraq war intelligence
(Agencies)
Updated: 2004-07-15 08:42
British Prime Minister Tony Blair was cleared Wednesday of tricking Britain into invading Iraq but was criticized in a report for relying on deeply flawed pre-war intelligence.
"We found no evidence to question the prime minister's good faith," Lord Butler said after releasing his report.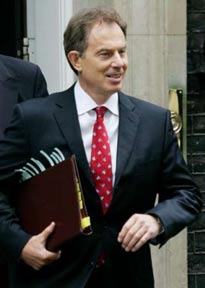 Britain's Prime Minister Tony Blair leaves Downing Street in London, July 14, 2004. [Reuters]

While Blair placed undue weight on thin intelligence about Saddam Hussein's weaponry, Butler told reporters there was "no deliberate attempt on the part of the government to mislead."

Blair, whose ratings have tumbled over Iraq but who is still tipped to win re-election next year, reacted with relief.

"No one lied, no one made up the intelligence," he told parliament. "I accept full personal responsibility ... for any errors that were made."

Political analysts said the Butler report was largely a win for Blair as it cleared him of cooking up intelligence to justify a U.S.-led war that most Britons opposed.

But as with the Iraq-related "Hutton report" earlier this year, the Butler inquiry may be judged as the establishment protecting its own. "Whitewash (Part Two)" was the front-page verdict in London's Evening Standard daily newspaper.

Blair conceded intelligence about Saddam's banned arms -- the key rationale for last year's war -- looked weaker now than when he defied widespread British opposition to join U.S. President Bush's invasion.

"It seems increasingly clear that at the time of invasion Saddam did not have stockpiles of chemical or biological weapons ready to deploy," he added, a stark contrast to his confident pre-war assertions.

FIRST WASHINGTON, NOW LONDON

The findings echoed last week's U.S. Senate committee report that lambasted American spy services for exaggerating the Iraq threat but found no sign Bush had pressured analysts.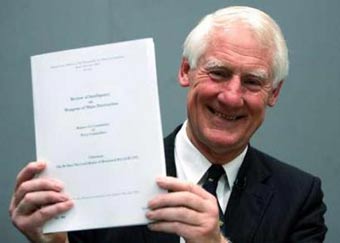 Britain's Lord Butler poses for photographs with a copy of his report at a news conference in central London, July 14, 2004. [Reuters]

Butler said Iraq "did not have significant -- if any -- stocks of chemical or biological weapons in a state fit for deployment nor developed plans for using them."

The government's Joint Intelligence Committee compiled a dossier on Iraq's weaponry in 2002 reflecting available intelligence but was under "strain" in a politically charged climate that compromised their objectivity, he added.

Butler highlighted a "serious failing" in removing warnings and caveats about intelligence that he said was anyway thin.

In the now notorious September 2002 dossier, Blair said Iraq could deploy weapons of mass destruction in 45 minutes. No such weapons have been found more than a year after the invasion.

The 45-minute claim bred suspicions it was there purely for "its eye-catching character," it added, in a clear indictment of a government criticized for its obsession with the media.

But Butler apportioned no blame for the quality of the intelligence or how it was used. He said John Scarlett, who headed the Joint Intelligence Committee and has now been promoted to run Britain's Secret Intelligence Service, should not be punished.

Analysts said the Butler report would be a relief to Blair, who is expected to call a general election in 2005.

"This is the best that the prime minister and the government could have hoped for. It looks to me as if he has been more or less left out of the circle of blame," John Benyon, politics professor at the University of Leicester, told Reuters.

But opposition leader Michael Howard said Blair's reputation was shot.

"If this prime minister said war was necessary, would the country trust him?" he asked parliament. "Does he have any credibility left?"




Today's Top News
Top World News

Premier warns of economic pitfalls




Warning sounded on possible floods




Most polluted cities in China blacklisted




Annual trade fair kicks off in Guangzhou




Sino-US relations improving: diplomat




Agreement ends first complaint at WTO