Premier warns of economic pitfalls
By Dian Tai (China Daily)
Updated: 2004-07-15 00:08
Premier Wen Jiabao Wednesday warned problems still exist in the operation of China's economy despite its overall health.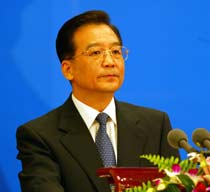 Chinese Premier Wen Jiabao. [newsphoto/file]

He singled out areas of concern including an overabundance of fixed assets investment, an imbalanced investment structure and tight supply of coal, electricity and oil, and the country's transportation capability.

"We are still challenged by the difficulty of macro economic control, which cannot be relaxed," said Wen Wednesday addressing high-ranking officials at an executive meeting of State Council, China's cabinet.

The meeting was held to report achievements of efforts to cool down its heated economy and plan the government's work during the second half of this year.

Wen said the government will continue to focus its efforts in agriculture, reiterating plans to strengthen China's grain production capacity by urging local governments to conscientiously subsidize grain producers.

At the beginning of this year, the government decided to spend a record 150 billion yuan (US$18 billion) in a move to encourage farmers to increase grain production, to improve rural infrastructure and ensure the country's food security this year.

More efforts should be made to regulate money supply, Wen said. But financial support should not end for those enterprises which are internationally competitive, environmentally friendly and comply with the country's industrial polices.

Wen said the supply of coal, electricity and oil, and the country's transportation capabilities are still under strain judging from demand.

He also stressed protection of arable land and said the government should play a larger role in supplying land, which provides major leverage in managing macro economic performance.

He also said the government should try their best to create more jobs and lower the jobless rate below the targeted indicator of 4.7 per cent by the end of this year.

In summary, Wen said China's economy has maintained rapid growth, with economic efficiency improving in a stable manner.

"The overly-rapid growth of investment has been curbed. The increase of money supply and credit has slowed down, and the destabilizing, unhealthy factors in economic operations have been checked to some extent," he said.

Figures released by National Development and Reform Commission indicated that investments in fixed assets grew by 18.3 per cent year-on-year in May, a significant drop from the 34.7 per cent growth rate in April.

Foreign trade has consistently risen and the government's financial revenue has reported a sharp increase.

"All these have shown that the macro economic control policies and measures adopted by the central authorities are timely, correct and effective," Wen said.

Fan Gang, a leading Chinese economist also said China is bringing its economy to a soft landing, as over-heated sectors gradually cool off without causing big swings in the overall economic growth.

Statistics during the first five months this year showed the growth rate of fixed asset investment and raw material imports have been dropping, and the price soaring of capital goods has been checked, he said.

"This evidence demonstrates that the macro-control policies are taking effect, and an economic soft landing is expected to be fulfilled," Fan said.

The Chinese Government recognized signs of overheating as early as last summer when the fight against SARS had basically concluded, he said, mentioning the central bank's move to raise the deposit reserve requirement for banks and tighten scrutiny of loans to the real estate development sector since last August.

"The Chinese Government's quick response has made it easier to adjust the overheating sectors of the economy," Fan said, adding that the market systems and experienced entrepreneurs also play an important role.

But he also said "it is still too early to say that the macro-control goal has been achieved.




Today's Top News
Top China News

FTA to help diversify China's energy sources




Premier warns of economic pitfalls




Warning sounded on possible floods




Most polluted cities in China blacklisted




Home-made explosive kills 16 in Shanxi




Police crack decade-old murder case in Xi'an