Bush twins break silence about campaign, parties
(Agencies)
Updated: 2004-07-14 14:07
Shielded for years from public view, U.S. President Bush's twin daughters have broken their silence in an interview describing a karaoke party at Camp David and how they surprised their father by deciding to join his campaign.
"It's not like he (Bush) called me up and asked me," Jenna told Vogue magazine in their first joint interview, released on Tuesday. "They've never wanted to throw us into that world, and I think our decision probably shocked them. But I love my dad, and I think I'd regret it if I didn't do this."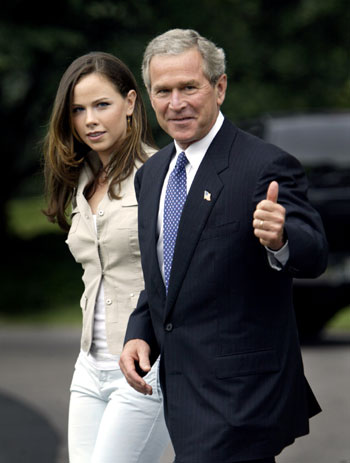 U.S. President George W. Bush and his daughter Barbara walk from the Marine One helicopter to Air Force One, July 13, 2004 at Andrews Air Force Base in Maryland, just outside Washington. [Reuters]

Bush is protective of his 22-year-old daughters, and White House spokesman Scott McClellan has asked the media to "show respect" as they emerge from private life as students to work at Bush's campaign headquarters in the Washington suburbs.

Barbara made her campaign trail debut on Tuesday in Michigan. Jenna joined Bush last week on a bus tour of the battleground state of Pennsylvania.

"Strangely, politics and family life never crossed," said Jenna in the interview, which will appear in Vogue's August issue and includes a glossy photo spread featuring the twins posing in formal dresses as well as more casual clothes.

She described how their 20th birthday party was held at the Camp David presidential retreat less than three months after the Sept. 11 attacks.

"We had 20 of our friends, and there was a really nice dinner and a karaoke machine afterward, and of course my dad had a sports tournament for the guys," Jenna said. "He's so competitive, so active. He was stressed out, I know, but we still had the party."

MOM "HAS FUNNY QUIRKS"

Jenna said her parents have the "best marriage," citing as proof that "my dad thinks my mom's funny even though she's really not -- she's cute, she has funny quirks."

Jenna said her mother would tell them to clean their bedrooms. "I call her OCD (obsessive-compulsive disorder) to her face, but I'm glad now because some of it's rubbed off on me," she said.

Jenna also described how the president interacted with the girls' boyfriends. "He's not the shotgun-dad type, he's the joking-around-to-the-point-where-he-scares-the-heck-out-of-them type."

There has sometimes been tension between Bush and the media over coverage of his daughters, especially when both had run-ins with the law over alcohol three years ago.

In an incident in Austin, Texas, in 2001, Barbara was sentenced to perform community service and attend an alcohol awareness class, while Jenna, who had been found with a false ID, was fined $600 and lost her driver's license for 30 days.

The only "drink" referred to in the Vogue interview are soy lattes, which the twins get at Starbucks .

Vogue said they are far better traveled than their parents were at their age. Barbara's graduation trip included stops in Moscow, St. Petersburg and Prague. Jenna went to Spain.

Barbara, who majored in humanities at Yale, said she planned to sign up for a program in which she would work in Eastern Europe and Africa with children afflicted with AIDS.

"We thought it would be better to wait (to start) until after November," Barbara said of the presidential election.

Jenna, who has an English degree from the University of Texas, plans to teach. "I'm just not political," said Jenna. "I have opinions, but there's nothing about the process that has ever interested me. I'm 22, and this is the first interview I've ever done in my life."