Britain's Iraq intelligence 'seriously flawed'
(Agencies)
Updated: 2004-07-14 21:29
An official inquiry into the quality of British intelligence on Iraqi weapons of mass destruction said Wednesday that some sources were "seriously flawed" or "unreliable" but found no evidence of "deliberate distortion or culpable negligence."
Lord Butler said, however, that a key prewar dossier prepared by Prime Minister Tony Blair's government on the threat posed by Saddam Hussein pushed the government case to the limits of available intelligence.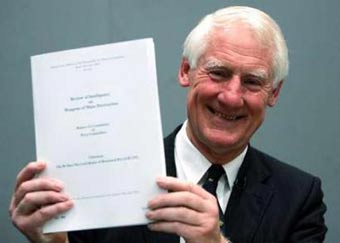 Britain's Lord Butler poses for photographs with a copy of his report at a news conference in central London, July 14, 2004. [Reuters]


He found that vital qualifying information on the limits of available intelligence were left out of the September 2002 dossier.

Butler's report contradicted a central claim made by Blair and found that, before the start of the war in March 2003, Iraq "did not have significant, if any, stocks of chemical or biological weapons in a state fit for deployment or developed plans for using them."

The report comes after U.S. Senate committee said last week that most of the Central Intelligence Agency's claims on Saddam Hussein's alleged arsenal were overstated or unsupported. The committee chairman, noting that the United States was not alone in its beliefs, called it a "global intelligence failure."

Blair's political opponents had hoped the Butler report would endorse their view that his government pressured spy chiefs into hyping the threat posed by Saddam.

"Tony Blair should admit that he was wrong about the size, scope and capacity of Iraq's WMD arsenal," said Charles Kennedy, leader of the opposition Liberal Democrat Party on Tuesday. "It's time he acknowledged his mistakes and took the blame."

Blair in a bullish mood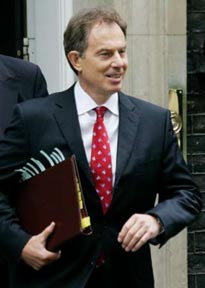 Britain's Prime Minister Tony Blair leaves Downing Street in London, July 14, 2004. [Reuters]

Blair was in a bullish mood Tuesday after receiving an advance copy of the report. Asked if he believed he had been fed "duff intelligence" that had made him look foolish, he replied: "I don't accept that at all."

The prime minister's personal ratings have fallen in the aftermath of the divisive war, and newspapers constantly speculate about the end of his run in power. But he remains in a strong position. A recent poll asked whether respondents would rather have Blair or opposition Conservative leader Michael Howard as prime minister, and Blair was favored by 47 percent to 31 percent.

Blair set out his case for war in a September 2002 dossier on Iraq's illicit weapons programs. In it, Blair confidently asserted that the intelligence "established beyond doubt ... that Saddam continued to produce chemical and biological weapons, that he continues in his efforts to develop nuclear weapons."

The dossier claimed Saddam had stockpiles of chemical and biological weapons; could deploy some within 45 minutes; and was trying to buy uranium in Africa to develop nuclear weapons.

Since the fall of Baghdad, however, the Iraqi Survey Group has found no stocks of WMD. The U.N. nuclear watchdog, the International Atomic Energy Agency, said documents supporting the uranium claim were forgeries and there was no evidence of a resurgent nuclear program.

The 45-minute claim, mentioned four times in the dossier, has caused the government the most trouble.

In May 2003, the British Broadcasting Corp. claimed Blair's office had "sexed up" the dossier by inserting the detail against the wishes of spy chiefs and probably knew it was wrong.

In the course of battle between the government and the broadcaster, weapons scientist David Kelly, named as the BBC's source, committed suicide.

Two parliamentary committees — the Foreign Affairs Select Committee and the Intelligence and Security Committee — cleared the government of "sexing up" the dossier. Both said the "jury was still out" on the existence of WMD in Iraq.

The second report said vital caveats on the limits of British intelligence had been left out and it should have made clear the 45-minute claim referred to short-range battlefield munitions, not missiles.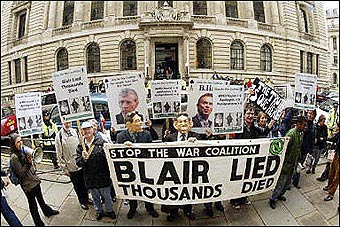 Anti-war protestors gather as Lord Butler delivered his committee's report on Britain's pre-Iraq war intelligence gathering. Prime Minister Tony Blair told parliament that he 'accepts' the findings of an inquiry into British intelligence on Iraq's weapons of mass destruction. [AFP]

Iraq's interim Prime Minister Iyad Allawi, whose Iraqi National Accord group supplied Western intelligence agencies with information on Saddam's weapons, said Wednesday that the 45-minute claim "really related to using such weapons against Iraqi troops if they moved against him."

Allawi insisted Saddam was developing long-range weapons and had shown he was ready to use chemical and biological weapons.

"Nobody could really say whether he was able to develop it completely," he told BBC radio.

Support from Bill Clinton

Blair received some supportive words Wednesday from former President Bill Clinton, who said Britons needed to remember that "it was very difficult in the aftermath of 9/11 for any world leader not to act on his intelligence."

"And the British intelligence, whatever Lord Butler says about it, was clearly even more forward-leading than the American intelligence in believing that Saddam (Hussein) was trying to get nuclear materials, in believing that Saddam had some kind of relationship with al-Qaida," Clinton told British Broadcasting Corp. radio.

Lord Hutton's inquiry into Kelly's suicide investigated deepest into the workings of the government and its intelligence agencies. In his report, derided by many as a "whitewash," Hutton concluded Blair's government had not misused intelligence.

But, Hutton suggested that intelligence officials may have been sensitive to what they perceived as their government's determination to go to war.

He concluded that John Scarlett, chairman of the Joint Intelligence Committee who signed off on the dossier, may have been "subconsciously influenced" by Blair's desire for strong evidence on WMD.




Today's Top News
Top World News

US$33.9 billion of FDI settle in China in first half year




China denies plan to relax macro control




China: Lee's Taiwan visit damages relations




Six tried for Chongqing gas blowout case




95 arrested for trafficking 76 babies




US plans tough English test for immigrants