95 arrested for trafficking 76 babies
By Wang Ye (China Daily)
Updated: 2004-07-14 14:00
Police of the Inner Mongolia Autonomous Region announced on Monday they have arrested 95 people in connection with the illegal sale of 76 infants.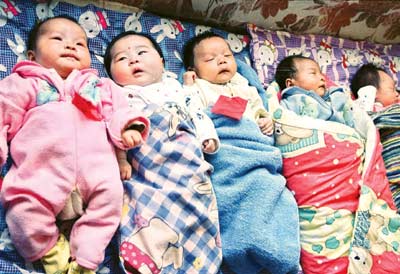 Children rescued last year from a baby trafficking gang, who took 21 babies from Xuanwei, Yunnan Province, and sold them in Hebi, Henan Province. [newsphoto/file]
Police in Hohhot, the regional capital, put the investigation into high gear after the arrest on May 11 of the first two suspects, said Xinhua News Agency.
The 43-year-old Ren Suyan, a native of a village near Hohhot, is believed to be a key person in the group. He was also apprehended.
A notebook detailing information of infants and their families was found by police as well.
Zhang Yi, an official with the Hohhot Public Security Bureau, told Xinhua that since 2003, the group has illegally purchased infants less than five days old from parents at about 30 local private clinics and hospitals, and traded them to accomplices in four other provinces.
"The investigation shows that the infants' parents are mainly migrant workers, unmarried women and even college students in and around Hohhot," Zhang said.
The case has aroused the attention of the central government.
In line with a directive from the State Council, China's cabinet, a special institution has been set up by the Ministry of Public Security and it is carrying out a full investigation in the involved provinces and regions.

Today's Top News
Top China News

China: Lee's Taiwan visit could damage relations




Foreign investment grows up steadily




US plans tough English test for immigrants




Disaster insurance scheme sought




Bin Laden confidant surrenders to Saudis




Militants say they killed Bulgarian hostage