Iraq intelligence report likely to embarrass Blair
(Agencies)
Updated: 2004-07-14 13:50
British Prime Minister Tony Blair and Britain's secret services faced fresh embarrassment over Iraq on Wednesday from a report expected to pick holes in London's case for war against Saddam Hussein.
Five days after a Senate committee lambasted U.S. intelligence services for exaggerating the threat of Iraqi weapons, Lord Butler's report is likely to subject British spy agencies to similar tough scrutiny.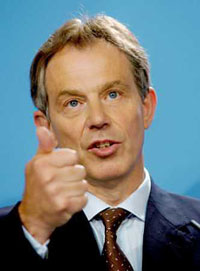 British Prime Minister Tony Blair and Britain's secret services faced fresh embarrassment over Iraq on July 14, 2004 from a report expected to pick holes in London's case for war against Saddam Hussein. [Reuters]

Crucial to Blair's political future is whether Butler blames only the intelligence-gatherers or extends his criticism to the politicians who used their information to justify war.

"There can be no doubt this inquiry will be about failure. It has now been evident for months that intelligence assessments prepared before the Iraq invasion were so wrong that no amount of political maneuvering can cover the credibility gap," said an assessment from the Jane's intelligence think-tank.

"Therefore, the report will have to address the key question of responsibility."

Butler's findings will be published at 12:30 p.m. (7:30 a.m. EDT) -- with Blair due to respond to parliament about an hour after.

Like his ally President Bush, Blair has seen his popularity tumble over Iraq and faces an election soon.

But despite the political toll of Iraq, most analysts still think Blair will lead his ruling Labour Party into a general election expected for 2005, and probably win it.

"PINNOCHIO BLAIR?"

Even so, Butler's findings will make him squirm and probably fuel another round of speculation over his leadership.

Media and political circles have been awash with gossip in recent weeks about the supposed rivalry between Blair and his presumed successor, finance minister Gordon Brown. The BBC reported Blair considered resigning last month.

Blair's foes were lining up early to enjoy his anticipated discomfort over the Butler report.

"However many reports Tony Blair and his government commission on the Iraq war, one indisputable fact remains -- Tony lied and thousands died," the Stop the War group said.

Its members planned to picket parliament on Wednesday in "Pinocchio Blair" outfits portraying the prime minister as the lying boy-puppet.

All the pre-Butler leaks and speculation indicate he will identify key failings in gathering intelligence on Iraq, and perhaps go beyond his remit to criticize the way politicians and their aides adapted the raw data for public consumption.

Under particular scrutiny is a September 2002 government dossier claiming Iraq could have deployed weapons of mass destruction at 45 minutes' notice. No such weapons have been found, and the 45-minute claim has been widely rubbished.

Criticism of the dossier would be particularly awkward for John Scarlett, who was chairman of the Joint Intelligence Committee responsible for it. He has since been named to head MI6, Britain's main overseas spy service.

Butler may also address the disputed claim that Iraq tried to buy uranium ore from Niger, and question the legal advice justifying London's support for war without a second U.N. Security Council resolution authorizing it.

An establishment figure who had a long civil service career, Butler was commissioned by Blair five months ago after the Hutton report into the suicide of a scientist who was the source of a BBC report saying the government hyped the Iraq threat.

Lord Hutton exonerated Blair, but many branded his report a whitewash. Calls for a full inquiry into Iraq intelligence were then fueled by Bush's announcement of a bipartisan commission to examine pre-war information.

Blair faces another test on Thursday in two by-elections for parliamentary seats in central England.

Both Birmingham and Leicester were Labour strongholds, but anger over Iraq -- particularly among Muslim voters -- has made them vulnerable to an anti-Blair swing.




Today's Top News
Top World News

China: Lee's Taiwan visit could damage relations




Foreign investment grows up steadily




US plans tough English test for immigrants




Disaster insurance scheme sought




Bin Laden confidant surrenders to Saudis




Militants say they killed Bulgarian hostage