Philippines says coordinating Iraq troop pullout
(Agencies)
Updated: 2004-07-14 10:31
Philippine officials were preparing on Wednesday to withdraw troops from Iraq following demands for a pullout from militants holding a Filipino hostage, but the military said it had yet to receive orders to leave.
Militants have threatened to behead truck driver Angelo de la Cruz unless Philippine troops leave by July 20. The Philippine air force said it had put two transport planes on standby in Manila to begin an evacuation of troops.
A foreign ministry statement, which came after news that a Bulgarian hostage had been executed by his captors, said the number of troops in Iraq had changed to 43 from 51 but did not say when the apparent cut was made.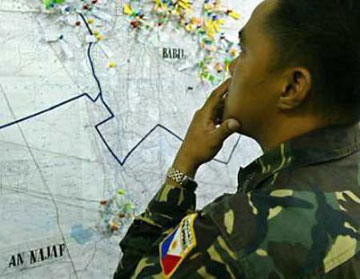 Philippine Army Master Sergeant Donald Cabatic studies a map of Iraq at his military base in the southern city of Hilla, Iraq July 13, 2004. [Reuters]


Asked if this amounted to a withdrawal, a military spokesman said no order to pull out had yet been received. Senior police and army officials said none of their personnel had left Iraq.

"The Department of Foreign Affairs is coordinating with the defense ministry for the withdrawal of troops," Foreign Affairs Secretary Delia Albert said in a statement.

"The headcount of the Philippine troops now in Baghdad from 51 is 43."

Statements by Philippine foreign affairs officials have been consistently vague since the deputy foreign secretary said on Monday that Manila would pull out as soon as possible, but gave no date -- suggesting a deliberate policy.

Albert's deputy did not clarify whether Manila plans to pull out its troops by July 20. Officials in Manila have also declined to make clear if the troops would leave much earlier than their scheduled August 20 departure.

"We are ready to bring home our troops from Iraq but we have not received any orders to fly," an air force spokesman said on Wednesday.

"There are two C-130 transport planes waiting ready to fly from Manila," he said.

The United States urged the Philippines on Tuesday against bowing to pressure from kidnappers by withdrawing its troops from Iraq ahead of schedule.

Speaking to reporters in de la Cruz's home village, relatives appealed to President Gloria Macapagal Arroyo late on Tuesday to provide them with more information.

"We can't sleep. We can't eat. We are worried about the condition of my uncle," said Julie Galang, a niece of de la Cruz.

Violeta Legaspino, de la Cruz's aunt, said: "I appeal to Mrs President to help free Angelo. Please have mercy on his eight children. He is innocent."




Today's Top News
Top World News

China: Lee's Taiwan visit could damage relations




Foreign investment grows up steadily




US plans tough English test for immigrants




Disaster insurance scheme sought




Bin Laden confidant surrenders to Saudis




Militants say they killed Bulgarian hostage