Israel rerouting barrier closer to border
(Agencies)
Updated: 2004-07-14 09:16
Israel is redrawing the route of its West Bank barrier closer to its borders to try to ensure Palestinians are not cut off from their lands in line with an Israeli High Court order, security sources said on Tuesday.
In a move that could help Ariel Sharon implement his Gaza pullout plan, Shimon Peres's center-left Labour Party approved the start of formal talks with the prime minister, head of the right-wing Likud, on forming a unity government.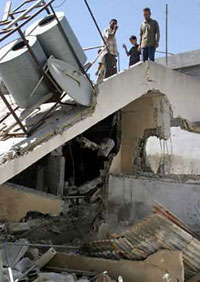 Relatives of arrested Fatah militant Ala Abdel Karim Safafi, accused of involvement in several suicide bombings in Jerusalem, look at the debris of his house after it destroyed by the Israeli army, in the Deheisheh refugee camp near Bethlehem, July 13, 2004.[Reuters]

An Israeli security source said redrafted Defense Ministry guidelines for the barrier -- a 100-meter-wide (330 feet) swathe of razor-fringed fencing and concrete walls -- would have it run "as close as possible" to the Israeli-West Bank boundary.

The World Court, the U.N.'s top judicial arm, branded the barrier illegal and called for its removal in a non-binding opinion last week rejected by Israel and hailed by Palestinians.

Israel said it would abide only by a precedent-setting June 30 ruling by its own High Court.

The Israeli court said the government had a right to erect a barrier for security reasons on territory it considers "disputed," but ordered a 30-km (18-mile) segment moved to alleviate hardships for Palestinian villages.

"We aspire not to separate Palestinians from their lands and build agricultural (access) gates, and of course we will try not to create enclaves. However there might be cases where we have no other alternative," a Defense Ministry spokeswoman said.

In a statement, she said a team reviewing the barrier's route was working on alternatives to present to decision-makers in the military and Defense Ministry.

TIGHT SQUEEZE

"We aspire not to put the fence next to the Palestinian houses, however there are cases where have a 20 or even 5-meter (gap) between the Israeli and Palestinian houses," the spokeswoman said.

Israel says the barrier, which often curves deep into the West Bank to encompass large blocs of Jewish settlements, stops Palestinian suicide bombers from infiltrating Israeli cities. Palestinians condemn it as a disguised attempt to annex land Israel took in a 1967 war and deny them a viable state.

In the West Bank city of Jenin on Tuesday, Israeli troops killed the local commander of Islamic Jihad, one of the Palestinian militant groups responsible for attacks on Israelis.

Two senior U.S. security envoys held talks with Sharon about the repercussions of the World Court decision, unauthorized Jewish settlement outposts in the West Bank and his plan to withdraw settlers from Gaza in 2005.

"The prime minister said at the meeting he was adhering to Israel's commitments and intends to carry them out as soon as possible," Sharon's office said, citing the dismantling of unauthorized outposts and humanitarian gestures toward the Palestinians.

In Tel Aviv, the Labour Party said in a statement that its politburo and parliamentary faction voted overwhelmingly in favor of coalition talks with Sharon, a day after he met Peres to discuss a partnership.

Sharon, 76, made overtures to Peres, 80, a long-time personal friend and political rival, after losing his parliamentary majority last month when far-right allies defected over his plan to remove troops and settlers from Gaza by the end of 2005.

Labour's terms are likely to include a swifter pullout and direct talks with Palestinians, who fear unilateral "disengagement" may give them back tiny Gaza only to deprive them of large swathes of the West Bank for a future state.




Today's Top News
Top World News

China: Lee's Taiwan visit could damage relations




Foreign investment grows up steadily




US plans tough English test for immigrants




Disaster insurance scheme sought




Bin Laden confidant surrenders to Saudis




Militants say they killed Bulgarian hostage