Projects concern plight of migrant workers
By Gerald Mak (That's Beijing)
Updated: 2004-07-14 09:10
Statistics can be dry and boring, but in China, sheer numbers are staggering - it's hard not to pay attention. There are currently about 120 million migrant labourers in China.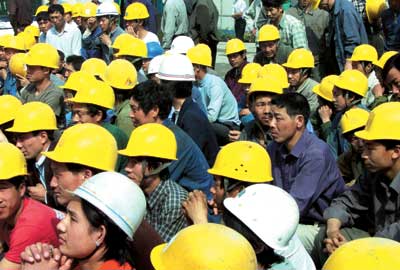 China currently has about 120 million migrant workers scattered in cities. [baidu]

It is estimated that another 300-350 million migrant workers will have relocated to urban areas by 2020. That's more than the population of the entire United States, and about one quarter of the population of China.

UNESCO's Together with Migrants project raises awareness of the plight of migrant workers through cultural events, including the art exhibition it held last November at the Today Art Gallery.

This month, UNESCO will present the first of several screenings in conjunction with the project. The aim of the screenings is to affect policy. The issue of migrant labour rights has certainly been deemed important enough for Premier Wen Jiabao to make a public statement in 2002, promising to "guarantee the legal rights of rural labour migrants."

Yet projects like Together with Migrants help put a face on the issue, and offer a chance for the public to learn more about it. The project, according to Genevieve Domenach-Chich, a UNESCO specialist in poverty alleviation and urban development, is a means of "communication starting with real actions between the researcher, the social scientist, the filmmaker and policy makers."

The two films presented in this month's screenings are documentaries, although organiser Katherina Schneider-Roos explains that some fictional pieces may also be screened in the next few months, leading up to another Together with Migrants art exhibition this November.

These films have not been screened before in China. The two films shown this month will be Drifting Dust by Wang Shiqing and Dance with Farmworkers by Wu Wenguang, reputed to be "the father of documentary films" in China.

Wu's film documents a performance piece from last year's art exhibition by Song Dong in which thirty Beijing farm workers from Sichuan performed center-stage along-side professional actors and dancers.

All participating filmmakers have a passion for their subjects. "Filmmakers have to be sensitive to the world around them," says Schneider-Roos. "Often, they are sensitive to issues even before policy makers."

Yet the battle is far from over, as Wu Wenguang states in his synopsis of his film: "This performance will do as little to change these people's lives and fates as the documentary can show the full complexity of their lives ?- My only consolation is that I will continue to follow them with my camera, documenting their lives, their work, their hopes and their fates."




| | |
| --- | --- |
| | |
| Rome's Fashion Week | |

| | |
| --- | --- |
| | |
| Paris Hilton at the opening of Mansion | |

| | |
| --- | --- |
| | |
| World Kissing Competition: underwater session | |
Today's Top News
Top Life News

US$33.9 billion of FDI settle in China in first half year




China: Lee's Taiwan visit damages relations




95 arrested for trafficking 76 babies




US plans tough English test for immigrants




Disaster insurance scheme sought




Bin Laden confidant surrenders to Saudis