Militants say they killed Bulgarian hostage
(Agencies)
Updated: 2004-07-14 08:42
Militants in Iraq said they killed a captive Bulgarian truck driver and threatened to put another hostage to death in 24 hours, Al-Jazeera television reported Wednesday.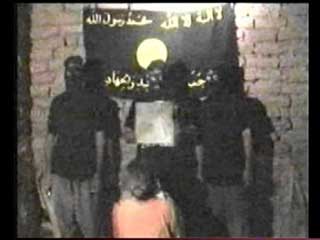 TV footage dated on July 13 shows one of the Bulgarian hostages and the Iraqi kidnappers. The captors threatened to kill the second within 24 hours if the United States refuses to release all Iraqi detainees.[Xinhua/AFP]

Word of the killing came amid deepening crises involving hostages from the Philippines and Egypt, with insurgent captors making demands that are complicating efforts to maintain the U.S.-led coalition.

Iraqi police, meanwhile, announced the arrests of 527 people in a massive sweep that appeared to be part of the new government's effort to flex its muscle and prove it is serious about cracking down on the nearly 15 month insurgency causing chaos throughout the country.

The Bulgarians were abducted by Jordanian militant Abu Musab al-Zarqawi's Tawhid and Jihad group. The militants said last week that they would kill the two truck drivers if the United States did not release all Iraqi detainees by last Saturday.

The group earlier claimed responsibility for beheading of American businessman Nicholas Berg and South Korean translator Kim Sun-il. It is also blamed for attacks that killed 100 people ahead of the transfer of power to Iraqis last month.

In a video broadcast on Al-Jazeera, the group said it had carried out its threat against one of the men and would kill the other in 24 hours.

Three men with their faces covered by black masks stood over a kneeling hostage, identified by reporters as Georgi Lazov, 30.

The video contained the killing but it was not broadcast because it was too graphic, said Al-Jazeera spokesman Jihad Ballout. He declined to say how the killing was carried out.

Bulgaria identified the other hostage as Ivaylo Kepov. The two were kidnapped while traveling to Mosul in northern Iraq. They were last heard from June 29.

Government spokesman Dimitar Tsonev confirmed the killing.

"The only thing we can do now is to continue our efforts to save the second man and pray during the next 24 hours that he will stay alive," Tsonev told reporters.

Bulgaria, which has a 480-member infantry battalion in Iraq, had sent diplomats to Iraq to try to negotiate the men's freedom.

Also, an insurgent group holding an Egyptian driver demanded Wednesday that the Saudi company he works for pull out of Iraq within 72 hours, Al-Jazeera reported. The group did not issue a specific threat.

In the large Baghdad arrest sweep, police in pickup trucks and sport utility vehicles fanned out after dark Monday into the Bab Alsheikh neighborhood and snatched suspects off the streets. Some fought back, setting off dozens of small gunbattles. One suspect died and two were injured while resisting arrest, said Deputy Interior Minister Hussein Ali Kamal.

The operation targeted "criminals, kidnappers and looters," he said. Iraqi police also arrested 15 suspected militants in the city of Kut south of Baghdad, police said.

Iraq has been plagued by a wave of bombings, shootings, sabotage and kidnapping that has badly hampered the nation's effort to rebuild from the devastation of war and sanctions.

Philippines was waiting for word early Wednesday on the fate of one of its citizens held by insurgents demanding the withdrawal of Philippine troops.

The Philippine government released an ambiguous statement Tuesday that appeared crafted to convince the kidnappers they had won and then imposed a rare media blackout in Manila, refusing to clarify its intentions.

Filipino diplomats said privately they were still trying to negotiate with the kidnappers, but it was not clear if Angelo dela Cruz, a 46-year-old father of eight, remained alive.

"This is the most sensitive point in the hostage crisis. We must unite behind Angelo's family, keep our peace and pray hard," Philippines presidential spokesman Ignacio Bunye said.

The crisis has put the Philippine government in a difficult position. It is a key ally in the United States' war on terror and does not want to damage its relationship with Washington. Still, it also doesn't want to be seen by its people as forsaking one of the millions of Filipinos working abroad.

President Gloria Macapagal Arroyo's government has been plagued by coup rumors and vexed by an opposition that disputes the recent election.

The crisis began July 7, when the Iraqi Islamic Army-Khaled bin Al-Waleed Corps released a videotape showing dela Cruz surrounded by masked gunmen and demanding the government pull its 51-member peacekeeping contingent from Iraq. Dela Cruz was reportedly abducted near Fallujah.

On Saturday, the Philippines said it would pull its troops out Aug. 20, and portrayed that as a concession. But the force's mandate had been scheduled to end Aug. 20 anyway.

After a deadline expired on Monday, Philippine Undersecretary of Foreign Affairs Rafael Seguis went on Al-Jazeera to make a direct plea with the kidnappers for mercy and issue the ambiguous statement about its troops.

"The Philippine government, consistent with its commitment, will withdraw its Philippine humanitarian contingent forces in Iraq as soon as preparations for their return to the Philippines are completed," he said.

Even the United States appeared baffled. State Department spokesman Richard Boucher said the U.S. Embassy in Manila was seeking clarification, adding that Seguis statement "sends the wrong message" to the hostage-holders.

The kidnappers had not responded publicly by Tuesday night.




Today's Top News
Top World News

China: Lee's Taiwan visit could damage relations




Foreign investment grows up steadily




US plans tough English test for immigrants




Disaster insurance scheme sought




Bin Laden confidant surrenders to Saudis




Militants say they killed Bulgarian hostage