Shanghai thunderstorm kills seven people
By Shang Ban (China Daily)
Updated: 2004-07-13 22:39
Thunderstorms have ravaged the city in the past two days, killing seven people, injuring dozens more and damaging property.
Now, as meteorologists predict more heavy storms in the next three days, the city is bracing to reduce damages and losses.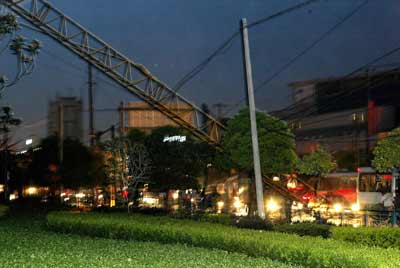 A gantry crane at a construction site on Cao'an Road is blown down by the storm, killing one and injuring two after crashing more than 50 houses. [Xinhua]

Meteorologists have issued warnings, asking residents to pay more attention to weather forecast before they go out.

Jiao Yang, spokeswoman for the Shanghai Municipality, said yesterday that all construction sites will be ordered to stop working whenever the local meteorology department issues a weather alarm.

The storm destroyed more than 200 houses, damaged more than 10 cars and led to electricity blackouts in northwest Shanghai.

A crane erected in a construction site on Cao'anlu, in the northwest area of Shanghai, was blown down by the storm around 6 pm. Its collapse crashed more than 50 houses, killed one person and injured two more.

One exhibition platform at the Shanghai International Race Festival 2004 also collapsed sending six employees of an advertising company to hospital.

One of them was pronounced dead on arrival. The other five are not in life-threatening condition.

Two other people died in Qingpu and Puto districts due to the same storm.

The storm on Monday also killed one and injured more than 20 in the Xinjing area.

The strong storm also delayed take-offs and landings at the Hongqiao International Airport in the southwestern part of the city. The airport stopped all planes from taking off or landing for at least 15 minutes on Monday. Many flights between Shanghai and Guangdong Province were postponed or cancelled because the latter area was also hit by the storm.

China Eastern Airline's flight No MU5302 was also the victim of the storm.

A sudden jolt during landing at the Hongqiao International Airport, injured 10 people, including three stewards. Four of them are still in hospital.




Today's Top News
Top China News

US report on Tibet 'violates'commitments




Campaign on AIDS awareness to sweep nation




Foreign investment grows up steadily




Tung: I desires good LegCo ties for HK well being




DPRK minister backs peace in Asia and world




Shanghai thunderstorm kills seven people