US$33.9 billion of FDI settle in China in first half year
By Dai Yan (China Daily)
Updated: 2004-07-13 22:39
Foreign direct investment (FDI) to China kept a stable growth rate in the first half of the year, a sign that measures to cool down overheated parts of the economy will not stem the flow of overseas cash.
Actual FDI into China rose 11.99 per cent to US$33.9 billion in the first six months of 2004, the Ministry of Commerce said on its website Tuesday.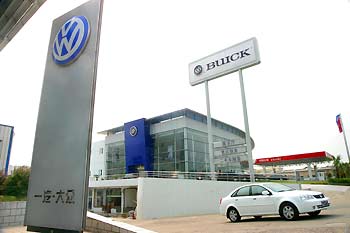 General Motors executives announce earlier last month that their company would invest more than US$3 billion by 2007 to expand operations in China. The picture shows a joint venture of General Motors in Shanghai. [newsphoto/file]
Contracted FDI, which measures future trends, was up 42.66 per cent year-on-year to US$72.7 billion in the first half.
However, the cooling-down measures have had an impact on China's money supply, according to statistics released by the People's Bank of China, the central bank.
Growth in China's broad M2 money supply slowed to 16.2 per cent in the year through June from 17.5 per cent in the year through May, the central bank said, as the latest sign that credit-tightening measures are working.
The Ministry of Commerce did not say how much FDI grew in June alone but, based on calculations using official information, China drew nearly US$7.92 billion in actual foreign investment in June, up 14 per cent from a year earlier.
Jin Bosheng, director of the FDI department of the Chinese Academy of International Trade and Economic Co-operation, a think-tank of the ministry, said the number showed foreign investors remained buoyant on the prospects of China's growing economy and were not frightened by steps to cool some industries.
"Businessmen are still confident that the government is able to manage overheating," Jin said.
The monthly actual FDI to China has maintained a two-digit growth rate for three months, up 15.5 per cent in May and 17.21 per cent in April.
China has recently taken steps to cool the overheated industries of steel, cement and aluminium, including raising bank reserve requirements and curbing loans to these sectors.
But the government still welcomes foreign investors and says foreign investment in the these sectors were at a reasonable level and was not part of the problem.
Foreign companies are drawn to China by the country's vast pool of cheap labour and its fast-growing market.
In June, US auto giant General Motors said it would invest US$3 billion to double capacity in China by 2007. Germany's Volkswagen AG said it would spend 740 million euros (US$900 million) on two new engine plants and one new car factory.
Wang Xiaoguang, an expert at the Academy of Macro-economic Research under the State Development and Reform Commission, said worries about overheating in some sectors still made investors cautious about investing in China.
But he believed the measures to help keep the economy growing at a sustainable level will not have an adverse impact on foreign investment.
"Foreign investors will change their wait-and-see attitude and be aware that sustainable growth of China's economy will benefit all," he said.
China's Commerce Ministry said recently it expected foreign investment this year to roughly match or exceed the US$53.5 billion reached in 2003.
Last year's actual FDI was up 1.4 per cent from the previous year, slowed due to the SARS outbreak.
China overtook the United States last year as the world's biggest recipient of foreign direct investment, drawing US$53 billion, according to a report by the Organization for Economic Co-operation and Development (OECD) this month.
Last year's foreign investment in China was larger than the US$40 billion attracted by the United States.
The ministry approved the establishment of 21,688 new foreign funded enterprises between January and June, up 14.89 per cent year-on-year.
Today's Top News
Top China News

US$33.9 billion of FDI settle in China in first half year




China: Lee's Taiwan visit damages relations




95 arrested for trafficking 76 babies




US plans tough English test for immigrants




Disaster insurance scheme sought




Bin Laden confidant surrenders to Saudis