Bush defends decision to invade Iraq
(Agencies)
Updated: 2004-07-13 08:33
Invading Iraq made America safer, U.S. President Bush said Monday, defending his war decision in the face of a Senate report debunking White House justifications for attacking Saddam Hussein's government.
Bush presented his case in a speech at Oak Ridge National Laboratory while Condoleezza Rice, his national security adviser, was made available for cable television interviews to defend the administration's decisions.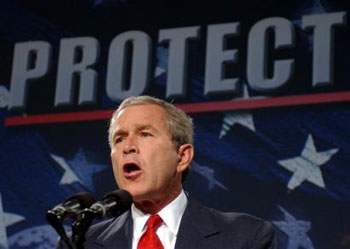 U.S. President Bush deliver his remarks on the war on terrorism at the Oak Ridge National Laboratory in Oak Ridge, Tenn., Monday, July 12, 2004. Bush defended his decision to invade Iraq even as he conceded on Monday that investigators had not found the weapons of mass destruction that he had warned the country possessed. [AP]

It was Bush's ninth trip to Tennessee, a state he won from Al Gore in 2000 and wants to win again in November. If listeners missed Bush's political message, they needed only to look at the red-white-and-blue sign posted behind the podium that read: "Protecting America." Underscoring his message, Bush said eight times in his speech that America was safer.

Three days ago, the Senate Intelligence Committee said the administration's belief that Saddam had chemical and biological weapons and was working to make nuclear weapons was wrong, based on false or overstated CIA analyses.

"Although we have not found stockpiles of weapons of mass destruction, we were right to go into Iraq," Bush told lab employees assembled in an auditorium. "We removed a declared enemy of America who had the capability of producing weapons of mass murder and could have passed that capability to terrorists bent on acquiring them. In the world after September the 11th, that was a risk we could not afford to take."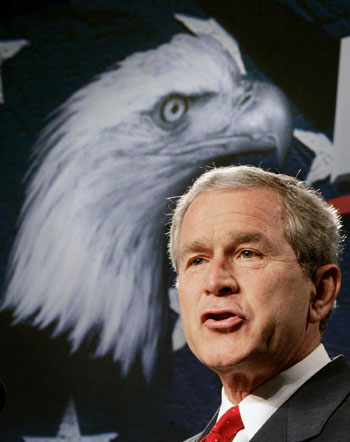 U.S. President George W. Bush speaks in front of a picture of an eagle at the Oak Ridge National Laboratory in Tennessee, after touring a display of materials and equipment collected in Libya, July 12, 2004. [Reuters]


It was Bush's first public reaction to the Senate panel's criticism.

Bush noted problems cited in the Senate report, including a shortage of human-gathered intelligence and poor coordination among intelligence services. But he did not comment on ideas proposed for reforming America's intelligence network, nor did he say when he planned to name a new CIA director to replace George Tenet, who stepped down Sunday for personal reasons.

Instead, Bush sought to compare situations in nations like Afghanistan, Iraq and Libya to how they were three years ago when the Taliban ruled in Kabul, Saddam was in power in Baghdad and Libya was backing terrorism and spending money to acquire weapons of mass destruction.

Under an agreement with Libyan leader Moammar Gadhafi to dismantle his country's nuclear weapons program, Libya's weapons hardware was shipped to Oak Ridge earlier this year.

Democratic presidential candidate John Kerry quickly dismissed Bush's claim that Americans are safer and said that if elected, his No. 1 security goal would be to prevent terrorists from acquiring weapons of mass destruction.

"Have we taken every step we should to stop North Korea and Iran's nuclear programs?" Kerry asked. "Have we restructured our intelligence agencies and given them the resources they need to keep our country safe? The honest answer, in each of these areas, is that we have done too little, often too late, and even cut back our efforts. It's not enough to give speeches."

"The facts speak for themselves. There was less nuclear weapons materials secured in the two years after Sept. 11 than in the two years before," he said. "North Korea has reportedly quadrupled its nuclear weapons capability in the past year. Iran is developing a nuclear weapons capability. Afghanistan has become a forgotten front in the war on terror."

The White House has long portrayed Libya's pledge to abandon weapons of mass destruction programs as affirmation of Bush's hard-line strategy on arms proliferation and suggested the U.S.-led war in Iraq helped convince Gadhafi that he should act.

"This progress came about through quiet diplomacy between America, Britain and the Libyan government," Bush said. "This progress was set in motion, however, by policies declared in public to all the world. ... Every potential adversary now knows that terrorism and proliferation carry serious consequences, and that the wise course is to abandon those pursuits."

Rice, meanwhile, denied suggestions that the administration was considering ways to delay the November election if there were a terrorist attack. "No one's thinking about postponing the election," she said.




Today's Top News
Top World News

Dongshan military drill to unveil this month




Foreign trade soars back in the black




China opposes US report on Tibet issue




China expects first ever farmer protection law




Abductors promise to release Filipino hostage




Power shortage: Industries to shift hours