Foreign trade soars back in the black
By Dai Yan (China Daily)
Updated: 2004-07-12 23:48
China posted its second consecutive monthly trade surplus in June as exports soared by a record 46.5 per cent, figures from the General Administration of Customs showed Monday.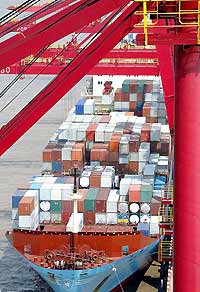 Ningbo Port, East China's Zhejiang Province. [newsphoto/file]
Exports jumped to a larger-than-expected US$50.5 billion in June after climbing 33 per cent in May, customs said. Imports were also stronger than expected last month, surging 50.5 per cent to US$48.65 billion.
In June alone, China posted a trade surplus of US$1.84 billion, the second monthly surplus this year.
China's foreign trade swung to a surplus of US$2.1 billion in May after four consecutive months of deficit as government measures to cool the economy led to a slowdown in imports of iron ore and steel.
For the first half of the year, exports rose 35.7 per cent to US$258 billion and imports surged 42.6 per cent to US$265 billion, resulting in a US$6.82 billion trade deficit.
Experts said the high growth rate of exports will help the country ensure a soft landing.
"It is certainly encouraging that exports are not weakening," said Li Yushi, an expert from the Chinese Academy of International Trade and Economic Co-operation.
The record growth rate this year is helping drive economic growth as the government reins in lending to cool an investment boom, he said.
"It is good to offset the investment slowdown so the country will not get a hard landing," Li said.
Surging trade may ease concerns that China's attempt to cool its economy will slow global growth and drive down commodities prices, he said.
Banks have curbed lending to industries including steel, autos and real estate. The central bank has raised the amount of cash banks must set aside as reserves three times since September.
Analysts said exports rose in June at their fastest pace this year because of rising spending in the United States, Japan and Europe.
But the high growth rate of imports still painted an unclear picture of how the cooling-down efforts paid off.
The surge of 50.5 per cent in imports in June, which compares with 35.4 per cent growth in May and 42.9 per cent in April, far outpaced expectations.
"It is much higher than what we expected," said Citigroup economist Huang Yiping, who expected 28 per cent year-on-year growth for imports.
Customs did not release a breakdown of trade, which is crucial to determine whether China's steps to cool its economy were working, he said.
The rapid import growth could be due to oil purchases, but if it was because of a continued appetite for steel and iron ore, that would raise questions over whether the a recent slowdown in investment growth was being sustained, the analyst said.
According to the customs statistics, crude oil imports in China rose 39.3 per cent year on year to 61.02 million tons in the first half of 2004. Imports of iron ore surged 34.9 per cent to 97.75 million tons. The imports of steel dipped 2.5 per cent to 18 million tons.
But it did not specify imports in June alone.
Analysts say they will look for signs of slower import growth as more proof that government measures to rein in the economy are working.
The Ministry of Commerce said exports were expected to rise an annual 15 per cent in 2004 to US$505 billion, while imports were likely to surge 20 per cent to US$495 billion.
That would produce a trade surplus of US$10 billion for this year compared to a US$25.5 billion surplus in 2003.
Today's Top News
Top China News

Dongshan military drill to unveil this month




Foreign trade soars back in the black




China opposes US report on Tibet issue




First law to protect farmers in the works




Abductors promise to release Filipino hostage




Power shortage: Industries to shift hours