Annan: We must do better on AIDS
(Agencies)
Updated: 2004-07-12 10:32
Global efforts to reduce the scale and the impact of AIDS by next year are not following projections made three years ago, U.N. Secretary-General Kofi Annan said Sunday.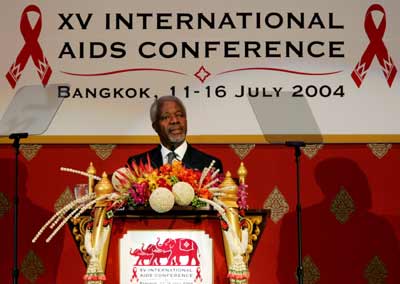 United Nations Secretary-General Kofi Annan addresses delegates during the opening ceremony of the 15th International AIDS conference in Bangkok on July 11, 2004. The conference goes from July 11-16. [Reuters]
Speaking to delegates at the 15th International Conference on AIDS, Annan also said that women are increasingly bearing the major brunt of the disease.
In 2001, at the General Assembly Special Session on HIV/AIDS, governments of the world made a number of pledges -- in a document dubbed the "declaration of commitment" -- aimed at defeating the pandemic.
Despite progress "on many fronts," Annan said in prepared remarks, "we are not doing nearly well enough."
World Health Organization figures released last week show that the virus infected a record 5 million people last year and caused 3 million deaths, a toll greater than any single year since 1981, when AIDS was first recognized.
"It is clear that if the declaration of commitment is to live up to its name, we will have to do much, much better on several fronts," Annan said, citing the need for nations to build up the infrastructure needed to support treatment and prevention programs.
Annan said such programs can work only if:
interventions are scaled up to reach whole societies.
they are developed inside each individual country, rather than imposed from the outside.
they engage people affected by HIV.
they include enough trained people.
Women nearly half of infected

Annan also reported that women account for nearly half of all infections among adults, yet a third of the world's nations "still have no policies to ensure that women have access to prevention and care."
"Why are women more vulnerable to infection?" Annan asked. "Why is that so, even where they are not the ones with the most sexual partners outside marriage, nor more likely than men to be injecting drug users?
"Usually, because society's inequalities puts them at risk -- unjust, unconscionable risk."
Annan cited "poverty, abuse and violence, lack of information, coercion by older men, and men having several concurrent sexual relationships that entrap young women in a giant network of infection," and called for empowerment of women to address the inequities.
"In other words, what is needed is the education of girls," he said. "Only when societies recognize that educating girls is not an option, but a necessity, will girls and young women be able to build the knowledge, the self-confidence and the independence they need to protect themselves from HIV/AIDS."
Annan called for leadership from the world's government's to stem the spread of the disease.
"Leadership means daring to do things differently, because you understand that AIDS is a different kind of disease. It stands alone in human experience, and it requires us to stand united against it," he said.
Calls for more drug availability

Hours before the opening ceremony for the conference, about 1,000 protesters marched outside the convention center.
Most of the protesters were Thais who called for greater availability of generic drugs as well as the expansion of prevention programs that include condom distribution and access to needles for IV drug users.
Organized by a coalition of Thai HIV patient-rights organizations and the U.S.-based Health Global Access Project, the event also included people from other countries, including Germany, France, the United States and Brazil.
Clad in pink shirts bearing the slogan, "Access Denied to All," many carried signs underscoring the importance of condoms in prevention programs and criticizing the Bush administration's Emergency Plan for AIDS Relief.
The plan, announced last year, called for US$15 billion over five years to combat the spread of HIV in 14 nations in Africa and the Caribbean. This year, the U.S. Congress provided US$2.4 billion for the plan.
Demonstrators criticized President Bush's apparent preference for programs that emphasize abstinence. Last month, in a speech in Philadelphia, Pennsylvania, Bush highlighted a Uganda program called the "A-B-C approach which stands for abstinence, faithfulness in marriage and when appropriate, use condoms."
"We're sick of bilateral donors such as the U.S. who give money with strings attached," said protest organizer Asia Russell of Health GAP.
Six months ago, the World Health Organization launched a plan to get half of the 6 million people in developing countries who need treatment on HIV drugs by 2005.
Only 440,000 of those now receive such drugs, the WHO said.
Its figures show that an estimated 38 million people are infected with HIV around the world, with the majority of them in developing countries.
Today's Top News
Top World News

China opposes Singapore deputy PM's Taiwan visit




Sudden storm hits Beijing hard




Voters in Japan deal a setback to Koizumi




Annan: We must do better on AIDS




Freeze extended on demolishing firms




Filipino hostage's deadline extended