Thousands wonder: Is Hua Mei pregnant?
(China Daily)
Updated: 2004-07-12 07:59
CHENGDU: Is she pregnant?
Millions of her fans hope the answer is yes, but experts are still in doubt.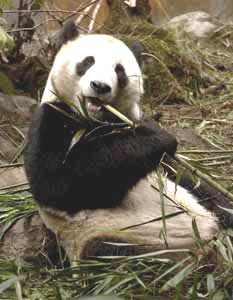 Hua Mei enjoys her bamboo delicacy at her new home in Wolong. [File]

A report in mid-June said Hua Mei, a female panda who will celebrate her fifth birthday in August, is an expectant mother. The report has not been scientifically proven but it has established how popular Hua Mei really is.

"Our phones have become hotlines," said Wang Pengyan, deputy director of the Wolong Nature Reserve, in Southwest China's Sichuan, which Hua Mei calls home.

The giant panda returned to her ancestral home from the United States five months ago.

In the eyes of the public, however, this first overseas-born panda returnee is still the brightest star in the endangered animal firmament.

It is true that Hua Mei successfully mated with another panda called Ling Ling on May 2, greatly increasing her chances of conception.

She later received artificial fertilization four times.

If successful, she will give birth in September, said Wang, Hua Mei's guardian.

"We are not sure if she is pregnant now, because so far, experts have no scientific means to prove whether a panda is pregnant until two weeks before she delivers a baby," said Wang, who has been immersed into the study on this precious animal, dubbed as a "national gem" of China.

The female panda is normally sexually mature at four to five years old and pandas in captivity at Wolong are usually in heat from March to May.

Pandas can only get pregnant once a year and give birth to one to two cubs each time.

Research results show giant pandas have a relatively low fertility rate, which is even lower when the animals are in captivity.

For long periods, more than 60 per cent of adult male giant pandas in protection areas or zoos lacked any sexual desire.

Only 10 per cent of them are capable of mating naturally. Only 30 per cent of female giant pandas actually become pregnant and give birth.

However, pregnancy determination remains a thorny problem for scientists. Hormone or ultrasonic examinations, which are frequently used to determine whether an animal is pregnant, do not work on pandas and sometimes the examination results turn out to be wrong, said Huang Yan, deputy chief engineer of the China Panda Protection and Research Centre in Wolong.

"What's more, the panda baby usually weighs about 100 grams when it is born, just like a little pink mouse. It is very difficult to detect its movement in the body of its mother who weighs some 100 kilograms," said Huang.

The panda gestation period lasts 83 to 181 days. Several days before it gives birth, the mother panda eats much less than usual and then refuses to eat. Many start to build dens.

"But now, except the occasional listlessness, we haven't see any signs of morning sickness on Hua Mei. So the answer to the riddle will only be unveiled in September," he said.

Hua Mei, meaning "China-America," was born in 1999 to Bai Yun and Shi Shi, a panda couple leased by China to the San Diego Zoo, in California in 1996 as part of a 12-year research co-operation programme between the two nations.

Under the contract, cubs of pandas abroad belong to China and should be returned after they are three years old.

Hua Mei returned to Wolong this February, where she met her father Shi Shi, who returned last year. Bai Yun, Hua Mei's mother, remained in San Diego with another male panda Gao Gao and their one-year-old son Mei Sheng.

Hua Mei has fully acclimatized to the diet zoologists have tailored for her, said Zhang Guiquan, deputy director of the reserve, who arranges and overlooks panda feeding and breeding.

A special team is set up to take care of panda would-be mothers.

"Our vets have increased routine checks on her recently, to check her breath, droppings, appetite and mood," said Zhang. "The results show Hua Mei is healthy and in good spirits. This lady has gained two kilograms over the past five months and weighs about 96 kilograms now."

Pandas are among the world's most endangered animals. Statistics from the State Forestry Administration released in June showed the number of pandas in the wild in China has increased by more than 40 per cent from 1,110 in the 1980s to 1,590 nowadays.

However, while the panda population has risen, the animal's existence is threatened by a loss of habitat and a low rate of reproduction.





Today's Top News
Top China News

Singapore says it opposes Taiwan independence




China expects first ever farmer protection law




Voters in Japan deal a setback to Koizumi




Annan: We must do better on AIDS




Freeze extended on demolishing firms




Philippines refuses Iraq kidnapper's demand