Japan voters turn out to give verdict on Koizumi
(Agencies)
Updated: 2004-07-11 11:30
Japanese voted on Sunday in a closely fought election for parliament's upper house that will give a verdict on Prime Minister Junichiro Koizumi's Iraq policy and his reform of state pensions.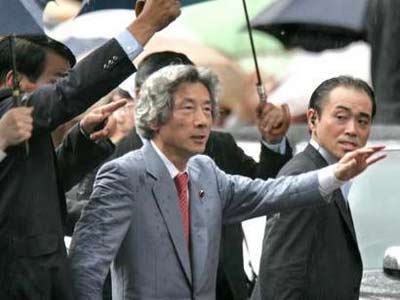 Japanese Prime Minister Junichiro Koizumi waves to voters after giving a speech during his in final day of campaigning for the Upper House Election at Ginza district in central Tokyo July 10, 2004. Japan's ruling and opposition party chiefs made final appeals to voters on Saturday, a day before the election that could determine the fate of Koizumi. [Reuters]
Koizumi's ruling coalition cannot be ousted as a result of the poll because it has a majority in the powerful lower chamber, but a poor performance would weaken his clout within his Liberal Democratic Party (LDP) and might invite calls to step down.
While the LDP and the Democrats do not differ radically on many policies, some voters want change to revive democracy after LDP rule for most of the past half-century.
One early voter, 75-year-old pensioner Kazuhiro Kawasaki, seemed happy enough with the party's record.
"The LDP has led the country to this point and although other parties may say they can do a better job, I don't think it's possible," he said.
Financial markets have been worried a weak LDP showing would hamper Koizumi's economic reforms.
The LDP hopes to capitalize on Japan's long-awaited economic recovery to win a vote of confidence and has enlisted Economics Minister Heizo Takenaka, who helped to draft Koizumi's reforms, to run on its ticket.
Many voters have been angered by the pension reforms, which have raised premiums and cut benefits to try to cope with a falling birth rate and aging population.
"Koizumi should quit and his ruling party should change," Daisuke Endo, a 33-year-old doctor, said after casting his ballot. "The only party strong enough to compete with the LDP is the Democratic Party."
A survey published by the Asahi Shimbun newspaper on Friday showed voters were about evenly split between the LDP and the main opposition Democratic Party. That would mean the LDP was in danger of missing its goal of winning 51 of the contested seats.
The upper chamber has a total of 242 seats and half are contested every three years. Voting started at 7 a.m. (2200 GMT) and ends at 8 p.m. (1100 GMT).
Three years of power
If the LDP hits its target of 51 seats, Koizumi will cement his grip on power after three years in office and is likely to serve out his remaining two years.
The party needs to win 56 seats to obtain an outright majority without its coalition partner.
If the LDP wins 45 to 50 seats, Koizumi would be weakened but would be likely to stay because of the lack of an attractive successor, many analysts said.
But if the LDP performed poorly and won 44 or fewer seats, that could well force Koizumi to step down.
In 1998, Ryutaro Hashimoto was forced to resign as prime minister after a disastrous LDP performance in an upper house election in which it won only 44 seats.
Koizumi sprang to power in April 2001, promising to abandon wasteful public spending that inflated government debt and to privatize debt-laden public corporations and postal services.
Many economists say his record is patchy, but they question whether the Democratic Party, whose platform also stresses economic reforms, would do any better.
Japan's dispatch of 550 troops to Iraq on a reconstruction mission is another focus of debate.
The Democrats opposed the deployment and want the soldiers brought home until security in Iraq improves and an elected government is put in place.
All the parties, including the Buddhist-backed New Komeito, the LDP's coalition partner, the small Communist Party and the tiny Social Democrats are fighting a common enemy: voter apathy.
A Kyodo news agency survey forecast a turnout of 51 percent, compared with 56.44 percent in the last election in 2001.
Today's Top News
Top World News

Power cuts put many Chinese business in bind




HK publishes guidelines on election




Premier Wen launches battle against AIDS




Classified data missing from US nuke lab




Harsh compensation plan still up in air




Chinese to travel Europe from September