Forbes Russia editor assassinated
(Agencies)
Updated: 2004-07-11 10:46
Paul Klebnikov, the editor of Forbes Russia who once penned a critical book on Russian tycoon Boris Berezovsky, was shot and killed as he left work Friday.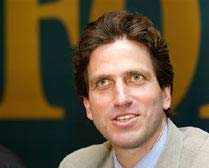 Klebnikov was appointed editor of Forbes Russia in April. [AP]

"Paul was a superb reporter -- courageous, energetic, ever-curious," Steve Forbes, the president and editor-in-chief of Forbes magazine, said in a statement sent to all employees.

"He exemplified the finest traditions of our profession and served his readers well. All of us at Forbes are devastated by what has happened and send our condolences and prayers to his wife and family."

Klebnikov was shot four times and died shortly afterward. He was leaving the Forbes Russia office in Moscow when he was gunned down.

Klebnikov was the first editor of Forbes Russia, which launched in April with a circulation of about 40,000.

The magazine contains content based on the Forbes U.S. edition, but also includes Russian business news.

In 2000, Klebnikov wrote a book on Berezovsky titled, "Godfather of the Kremlin: The Decline of Russia in the Age of Gangster Capitalism."

Berezovsky was a one-time Russian car dealer who became one of the richest men in Russia after the fall of Communism.

"This individual had risen out of nowhere to become the richest businessman in Russia and one of the most powerful individuals in the country," Klebnikov wrote.

Klebnikov joined Forbes in 1989 and rose to the position of senior editor at the magazine, specializing in Russian and Eastern European politics, before heading up the Forbes Russia venture.

"He knew Russia well. It was a country he loved deeply," Forbes said.





Today's Top News
Top World News

Power cuts put many Chinese business in bind




HK publishes guidelines on election




Premier Wen launches battle against AIDS




Classified data missing from US nuke lab




Harsh compensation plan still up in air




Chinese to travel Europe from September