Accused U.S. Army deserter rejoins wife
(Agencies)
Updated: 2004-07-09 22:20
An American who allegedly deserted his Army unit 40 years ago to defect to North Korea was tearfully reunited Friday with his Japanese wife, two years after North Korea allowed her to return to her country.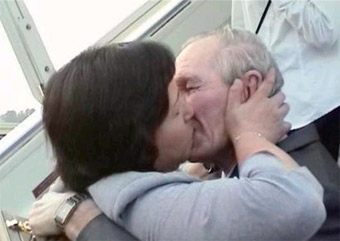 American Charles Robert Jenkins and his wife, former Japanese abductee Hitomi Soga, kiss upon his arrival at Sukarno-Hatta International Airport in Jakarta, Indonesia, from Pyongyang, North Korea, Friday, July 9, 2004, in this video image. Jenkins who allegedly deserted his Army unit 40 years ago to defect to North Korea arrived in Indonesia with his two daughters for a long-awaited reunion with Soga. [AP]

Charles Jenkins and the couple's two children arrived from Pyongyang on a plane chartered by the Japanese government. Hitomi Soga, who was abducted by spies and taken to the North in 1978, was on the tarmac to meet him and their two teenage daughters.

Japanese TV showed Soga kissing Jenkins, then burying her face in his shoulder and embracing him. Then she turned to hug her tearful daughters, as Jenkins stood nearby wiping his face.

The emotional scene ended with the family boarding a bus on the tarmac.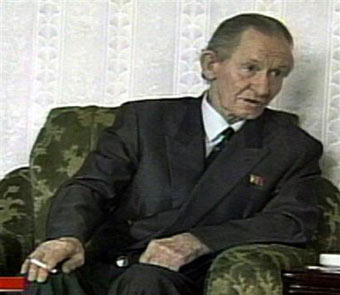 American Charles Jenkins waits at Pyongyang airport, North Korea, before his departure with his two North Korean-born daughters Friday morning, July 9, 2004. The three left for Jakarta, Indonesia, for a reunion with Jenkins' wife Hitomi Soga, a Japanese abductee repatriated from North Korea. [AP]


Earlier, North Korean TV broadcast in Japan showed Jenkins and his daughters before the flight wearing North Korean flag pins. He smoked a Marlboro cigarette — a luxury item in the impoverished state.

Soga said of those images that her teenage daughters "appeared more fashionable now because they are wearing earrings," according to a statement released by the Japanese Embassy in Jakarta.

Jenkins was serving in a U.S-army unit based on the Demilitarized Zone between the two Koreas when he disappeared during a routine patrol in 1965.

He met and married Soga in 1980 in Pyongyang. Soga spent nearly a quarter-century in North Korea, before leader Kim Jong Il agreed with Japanese Prime Minister Junichiro Koizumi two years ago to allow her and four other kidnap victims to return home.

The U.S. government wants Jenkins to face charges that he deserted. The 64-year-old had refused to be reunited with his wife in Japan because of the possibility he could be extradited to stand trial in the United States.

Indonesia, which has no extradition treaty with the United States, was picked as the venue for the reunion after Washington rebuffed Tokyo's requests that it refrain from prosecuting Jenkins.

Indonesia agreed to host the reunion as a humanitarian gesture, Foreign Minister Hassan Wirajuda said.

Soga arrived Thursday, and a police escort accompanied her to a hotel.

It was unclear what would happen next for the family. Soga has said she will try to persuade her husband to join her in Japan, but he is reportedly still afraid of facing U.S. legal action and wants to return to North Korea.




Today's Top News
Top World News

Rice reiterates one-China stance




Industry reports slowed growth




Goals set to improve auditing system




Agreement ends rebates for chip makers




Chinese forced labourers win suit in Japan




Joint statement signed to aid co-op treaties