Hostage neck slashed, kidnapper shot dead
(China Daily)
Updated: 2004-07-09 10:26
A kidnapper was shot dead on Wednesday morning after three hours of delicate negotiations with police broke down in Changchun, capital of Northeast China's Jilin Province.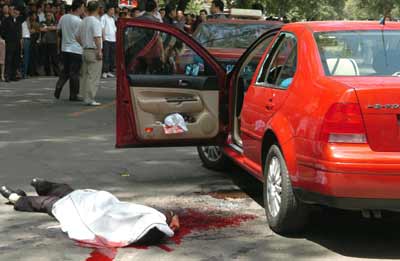 The 25-year-old kidnapper is shot dead by police after three hours of negotiations failed. [Xinhua]
Police officers said they were forced to shoot because they spotted the kidnapper slitting his hostage's neck with a knife.
The victim, a woman, died at the scene.
"The kidnapper was crazed and the knife was very sharp and easily cut the hostage's throat," one of the officers recalled.
The negotiators were led by a local police director and vice-director, both of whom have rich experience in criminal investigations, according to information provided by the Changchun Public Security Bureau.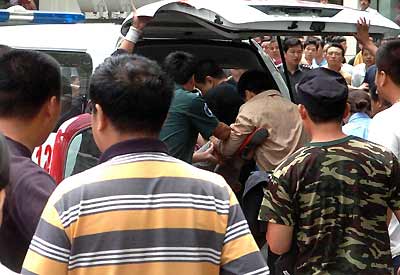 Police put the woman hostage into an ambulance after she was injured by the kidnapper. The woman died later in the hospital. [Xinhua]
The kidnapper, 23-year-old Chen Haoran, had demanded a ransom of 100,000 yuan (US$12,000) after seizing the woman in her late-model sedan in downtown Changchun.
The woman's screams for help alerted passers-by who reported the situation to police.
More than 100 officers arrived before senior police leaders spoke to Chen, trying to persuade him to surrender and release the woman.
Tang Qinghua, vice-director of the police bureau, said Chen's demands were met when a bag containing 100,000 yuan was placed in the car.
"But the talks ended up in a stalemate after Chen insisted going with the woman to a safe place and refused our suggestion to swap the woman for two policewomen," Tang explained.
He said they could not let the hostage go with Chen because she would have still faced grave danger.
Tang said the hostage's jugular vein was cut just as the police shot the kidnapper.
Chen was found to have also been armed with an ax.
Today's Top News
Top China News

Taiwan tops Rice agenda in China




Nations to fight cross-border crimes together




China, US resolve semiconductor dispute




Hostage neck slashed, kidnapper shot dead




40 die in Guangdong heatwave




Foreign firms cash in on China consumers