World Court to rule against Israel's barrier -paper
(Agencies)
Updated: 2004-07-09 08:38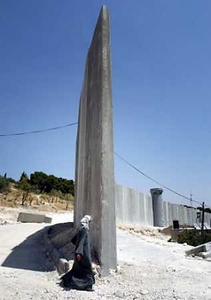 A Palestinian woman walks past the construction site for the controversial security barrier that Israel is building to separate Jerusalem from the West Bank July 8, 2004.[Reuters]

The World Court will rule on Friday that Israel's West Bank barrier contravenes international law and must be dismantled, Israel's Haaretz newspaper reported.

The paper, quoting documents it had obtained, said the barrier infringed Palestinian rights.

"The construction of such a wall accordingly constitutes breaches by Israel of its various obligations under the applicable international humanitarian law and human rights instruments," Haaretz quoted the documents as saying.

The paper said on its Web site that 14 out of the 15 judges voted in favor of the ruling, with only American Thomas Buerghenthal dissenting.

Shi Jiuyong of China, the court's head judge, will start reading the ruling at 9 a.m. EDT.

Israel has said it will not accept what is expected to be among the most watched rulings in the 58 years of the World Court, based in The Hague.

The Jewish state says the network of fences, ditches and walls has already improved security, but Palestinians call it a land grab.




Today's Top News
Top World News

Taiwan tops Rice agenda in China




Nations to fight cross-border crimes together




China, US resolve chip dispute




40 die in Guangdong heatwave




Foreign firms cash in on China consumers




Hainan sets agenda for development