China, US resolve semiconductor dispute
(Agencies)
Updated: 2004-07-09 08:00
The United States and China have resolved a dispute over Chinese market access for U.S. semiconductors, which led the United States to lodge the first World Trade Organization complaint against Beijing, the U.S. government said Thursday.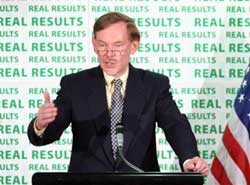 U.S. Trade Representative Robert Zoellick gestures during a news conference in Washington Thursday, July 8, 2004, to announce that the Bush administration has resolved semiconductor disputes with China. [AP]

A statement from the U.S. Trade Representative said the deal "will ensure full market access ... for U.S. integrated circuits in China," which is a market worth more than $2 billion to the U.S. industry.

The Bush administration filed the complaint March 18, arguing a 17 percent value-added tax on integrated circuits constituted an unfair trade barrier.

The full force of the deal will take effect by April 1, 2005, when China stops providing tax refunds to domestic producers currently getting the rebate, USTR said.

March's complaint was the first filed against China since the country joined the WTO in December 2001.

In April, China and the United States sorted out another semiconductor-related trade dispute, which related to a proprietary security technology that China had planned to impose on wireless networking chips.

That dispute was resolved only after the U.S. Trade Representative Robert Zoellick met directly with China Vice Premier Wu Yi.

Insignificant Impact

Industry experts said China's decision to scrap tax breaks for domestic semiconductor manufacturers will only have a limited impact on chipmakers.

The China Semiconductor Industry Association said this was because the amount of money involved was insignificant and the government was likely to bring out more preferential policies to develop the industry.

"The revocation of the tax break has more symbolic significance than any practical impact," said Li Ke, director of the information exchange department at CSIA.

"It will have limited impact on the domestic chip industry -- the size of the rebates amounted to only a few hundred million yuan last year."

International chip makers such as Intel Corp. and Micron Technology were concerned chipmakers manufacturing in China received value added tax (VAT) rebates of up to 14 percent while imported chips were subject to a tax of 17 percent.

China is now the world's third largest semiconductor consumer, with sales rising 41 percent to 207.41 billion yuan (US$25 billion) last year and growth of 31 percent expected this year.

But the country still relies heavily on imports.

On Friday, the Ministry of Science and Technology, the Ministry of Commerce and National Development and Reform Commission issued an announcement they were formulating detailed policies to encourage the development of the semiconductor industry and eight other high-tech sectors.

CSIA's Li said China's agreement to scrap the VAT rebate system would not shake the determination to foster the chip sector with other preferential policies that would not breach WTO rules.

"Preferential bank loans with lower-than-market interest rates are likely to be one of those tools," he said.

"WTO rules only prohibit discriminatory preferential measures, such as tax rebates and government subsidies in firms' production and sales practices, not policies in research and development.

"So it's perfectly fair to grant China's fledging chip firms subsidies for research and development purposes."




Today's Top News
Top China News

Hu urges US not to send wrong signal to Taiwan




Nations to fight cross-border crimes together




China, US resolve semiconductor dispute




Hostage neck slashed, kidnapper shot dead




40 die in Guangdong heatwave




Foreign firms cash in on China consumers