Kerry vows to make US respected again
(Agencies)
Updated: 2004-07-08 16:28
The 2004 US presidential race shifted into higher gear as Democratic hopeful John Kerry pledged to make America respected around the world once more, while President George W. Bush took a swipe at Kerry's new running mate.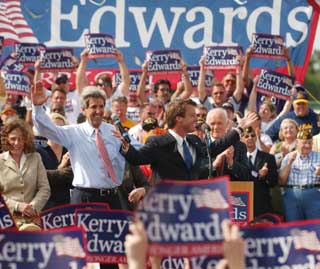 U.S. Democratic Presidential candidate, Senator John Kerry (D-MA), (L), along with his vice presidential runningmate, Senator John Edwards (D-NC), (R), wave to a crowd of supporters at Riverscape Metropark in Dayton, Ohio, July 7, 2004. Kerry and John Edwards campaigned together for the first time Wednesday. [Reuters]

Both teams hit the campaign trail in earnest: Bush visited North Carolina and touched down in Michigan late Wednesday, while Kerry and his running mate Senator John Edwards were in Pennsylvania and Ohio, and due in Florida Wednesday evening.

"Today we're embarking on a new journey together -- not for us, but for our country. A journey to make our country all it can be, to make it stronger here at home, and, once again, respected and influential in the world," Kerry said.

The Massachusetts senator was flanked by his family and Edwards's at a scenic farm owned by Kerry's wife, Teresa Heinz Kerry.

It was the first time the two families had appeared together since Kerry unveiled his choice for running mate Tuesday.

The selection of Edwards has already given the Democratic ticket a quick boost in opinion ratings, four months before the November 2 election.

A CBS News poll gave the Kerry-Edwards ticket 49 percent, against 44 percent for Bush and Vice President Dick Cheney.

And an NBC poll gave the Democrats 49 percent over 41 percent for the incumbents.

Polls by both networks about a week earlier had the Democrats and Republicans in a statistical dead heat.

Bush meanwhile took a jab at Edwards in the North Carolina senator's own backyard, suggesting his own vice president was more experienced.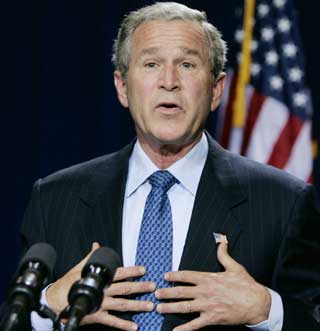 U.S. President George W. Bush makes a statement to the press following a private meeting with North Carolina Judicial nominees at the Raleigh Durham International Airport in North Carolina, July 7, 2004. [Reuters]

Asked about the differences between Edwards and Cheney going into the November 2 presidential election, Bush replied: "Dick Cheney can be president."

"I did well here in 2000 because North Carolinian voters understood we share values. I am going to do well again in 2004," Bush declared.

"I also know that when they go to the polls to vote for president they will understand that the senator from Massachusetts (Kerry) doesn't share their values," he added.

The Republican president took part in a private fundraiser and met judges whose nominations are being held up in Congress before jetting to the midwest.

With polls showing Bush and Kerry running neck and neck, threatening a photo-finish repeat of the 2000 election, both camps are throwing their campaigning into top gear.

The Democrats are counting on Edwards' youthful vigour to give them an extra bounce ahead of the party's national convention later this month, while the Bush-Cheney ticket looks set to paint Edwards as too inexperienced.

The Democratic-duo launched a six-state swing starting in Cleveland, Ohio, after Kerry earlier in the day struck an optimistic tone on his wife's farm in neighbouring Pennsylvania.

"It is hopeful, optimistic, positive," Kerry said. "Our vision is a vision that puts this country back to work and restores confidence. Our vision is one that makes America stronger and fights a more effective war on terror."

The Kerry campaign also rolled out seven new television advertisements that it said were "part of an aggressive strategy to introduce the country to the proven, energetic and experienced Kerry-Edwards ticket."

The Democrats announced they would run ads in Edwards's home state of North Carolina, declaring it a crucial "battleground" four years after Bush swept the southern state by a healthy double-digit margin.

Bush's trip to North Carolina was scheduled before Kerry selected Edwards, 51, a charismatic ex-trial lawyer with populist flair, to round out the Democratic ticket.

Though it has a strong Democratic tradition, North Carolina voted for Bush in 2000 -- 56 percent to 43 percent over rival Democrat Al Gore.

However, some analysts believe Edwards's southern roots could help attract voters to the Democratic Party.

Bush-Cheney campaign spokesman Steve Schmidt said that "John Kerry's choice of John Edwards as his running mate cements their position as the most out of the mainstream ticket in the history of the Democratic Party. The most liberal senator and the fourth most liberal senator are out of step on the kitchen-table issues that matter to Americans."

Edwards is the son of a textile mill worker who studied law and became a self-made millionaire defending average people in cases involving big businesses.

His humbler, Southern origins contrast with those of Kerry, 60, who is from Massachusetts, the son of a diplomat and married to the widow of the heir to the Heinz food fortune.




Today's Top News
Top World News

China, Russia plan to hold military drill next year




HK's health chief quits over SARS




Japan's sea exploration sparks tension




Official: No signs of bird flu spreading




Filipino hostage faces death threat in Iraq




Kerry vows to make US respected again