FM holds talks with Bush's security advisor
(Xinhua)
Updated: 2004-07-08 16:13
Chinese Foreign Minister Li Zhaoxing held talks with US Assistant to the President for National Security Affairs Condoleezza Rice in Beijing Thursday.
The two sides discussed Sino-US ties and international issues of common concern. Li welcomed Rice, and the advisor transferred greeting from US Secretary of State Colin Powell to Li, sources with the Chinese Foreign Ministry said.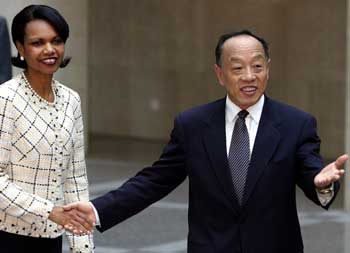 Chinese Foreign Minister Li Zhaoxing (R) greets US national security advisor Condoleeza Rice in Beijing July 8, 2004. [Reuters]


Rice arrived in the Chinese capital from Tokyo Thursday noon, kicking off her 24-hour visit to China as a guest of Li Zhaoxing.

During her stay here, Chinese leaders, including President Hu Jintao, Chairman of Central Military Commission Jiang Zemin, and State Councilor Tang Jiaxuan will meet her. The Taiwan issue is believed to be priority.

It is reported that China is the second leg of Rice's three-nation Asian tour, including Japan and the Republic of Korea (ROK) as well.

On Wednesday, Rice held talks with Japanese Prime Minister Koizumi Junichiro and Foreign Minister Kawaguchi Yoriko.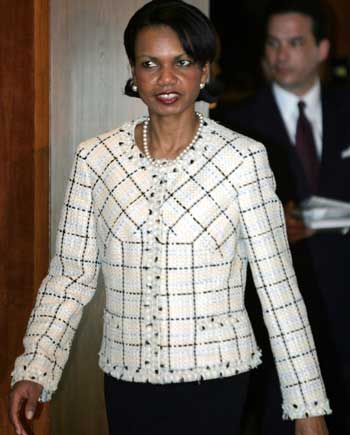 US national security advisor Condoleeza Rice arrives to speak to reporters in Tokyo July 8, 2004, before heading for China. [Reuters]


Rice is expected to leave Beijing for Seoul Friday noon and then confer ROK leaders on the Korean Peninsula nuclear issue.

Rice accompanied US President George W. Bush in a working visit to China in February, 2002.




Today's Top News
Top China News

China, Russia plan to hold military drill next year




Bird flu case rated 'isolated' occurrence




HK's health chief quits over SARS




Japan's sea exploration sparks tension




Filipino hostage faces death threat in Iraq




Kerry vows to make US respected again