Filipino hostage faces death threat in Iraq
(Agencies)
Updated: 2004-07-08 15:38
A death threat hung over a Filipino hostage in Iraq on Thursday and the fate of a kidnapped Lebanese-born U.S. marine remained uncertain.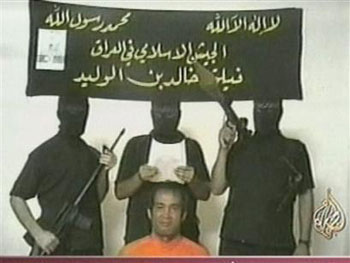 This is an image taken from footage by pan-Arab TV channel Al-Jazeera broadcast Wednesday July 7, 2004, purporting to show armed men reading a statement with a Filipino hostage wearing orange. The Al-Jazeera newscaster said the group offered to release their hostage if the Philippines withdraw their troops from Iraq within 72 hours. The Banner behind has the name of the armed group 'Iraqi Islamic Army - Khaled bin al-Waleed corps'. Al-Jazeera logo below right. [AP]
Philippine President Gloria Macapagal Arroyo ordered no more workers to go to Iraq after Arabic Al Jazeera television said gunmen had seized a Filipino there and threatened to kill him unless Manila withdrew its troops within 72 hours.
The State Department said it was trying to verify reports that Corporal Wassef Ali Hassoun, missing from his unit since June 21, had turned up safe in Lebanon.
Hassoun contacted relatives in West Jordan, Utah, and in Tripoli, Lebanon, and told them he had contacted the U.S. Embassy in Beirut and asked to be picked up from an undisclosed location in Lebanon, CNN reported.
It was citing a source close to his family who said Hassoun sounded healthy and happy.
"We don't have any information," a Lebanese embassy official in Baghdad said on Thursday.
Kidnappers have seized dozens of foreigners since April to press demands for foreign troops to leave Iraq, to deter foreigners from working with U.S. forces or to extract ransom.
Many hostages have been freed, but at least four have been killed, including an American and a South Korean beheaded by a group led by Jordanian militant Abu Musab al-Zarqawi.
Iraq's interim government, determined to crush foreign Islamist militants and Iraqi insurgents, announced a new security law on Wednesday giving itself powers to declare martial law in defined areas for periods of up to 60 days.
Allawi's government, which formally regained sovereign powers on June 28, has said it also plans to restore the death penalty, suspended during the U.S.-led occupation, and offer a temporary amnesty for rebels not guilty of serious crimes.
Manila Mulls Response
The Philippines, a staunch Asian ally of the United States, has about 50 military personnel in Iraq helping in reconstruction, as well as 4,300 civilian workers, many employed by contractors and working in U.S. military bases.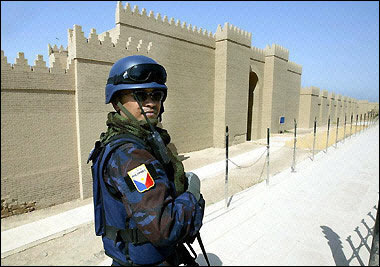 This file photo dated 28 September 2003 shows a military police member of the Philippines standing guard at the walls of the ancient city of Babylon, 100 kilometres (60 miles) south of the Iraqi capital Baghdad. [AFP/File]
Arroyo's spokesman said there would be a decision "very shortly" in response to the troop withdrawal demand.
Three Filipino workers have so far been killed in attacks by insurgents opposed to the U.S. military presence in Iraq.
The top Filipino diplomat in Baghdad said there was no firm word on the hostage's identity or where he had been seized.
"Until now we cannot establish for sure that he is a Filipino national," charge d'affaires Ricardo Endaya told Reuters, adding that the embassy was contacting Iraqi authorities and possible intermediaries to seek his release.
A video tape aired by Al Jazeera showed a man in an orange jumpsuit kneeling in front of three gunmen. A banner behind them named the group the Khalid bin Waleed Corps of the Islamic Army in Iraq, named after an early Islamic military leader.
It showed the identity card of Hafidh H Amer, an Iraqi security company employee the gunmen said they had killed.
Unidentified militants have also kidnapped an Egyptian driver who was delivering petrol from Saudi Arabia to the U.S. military in Iraq, Al Jazeera reported on Wednesday.
The circumstances of Hassoun's disappearance from an American military base in Iraq have been mired in confusion.
NBC News said on Wednesday the U.S. Navy had opened an investigation and was checking the possibility his kidnapping was a hoax. The Pentagon has not commented on the report.
Statements in Arabic posted on Saturday on two Internet sites claimed a militant group had beheaded the 24-year-old corporal. But the Islamist group, Army of Ansar al-Sunna, denied the claim, which was put out in its name.
On Monday another group, the Islamic Response Movement, said it had moved the marine to "a place of safety" after he pledged not to return to the American armed forces.
Today's Top News
Top World News

China, Russia plan to hold military drill next year




Bird flu case rated 'isolated' occurrence




HK's health chief quits over SARS




Japan's sea exploration sparks tension




Filipino hostage faces death threat in Iraq




Power shortage: 6,400 factories to go off-line