'Care For Girls' gaining momentum
(China Daily)
Updated: 2004-07-08 13:54
It is a common impression that grandmothers in rural China embrace the feudal preference for large families with many sons.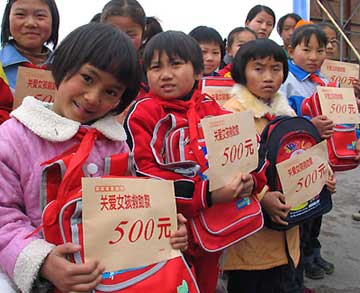 Girls from Anhui Province's poverty-stricken areas each receive a donation of 500 yuan (US$60) on March 25 during a "Care for Girls" promotion. [newsphoto/file]
Yet 63-year-old grandma Liang Cuiying does not agree and believes she can serve as an example to defeat the "gender prejudice."
Liang, a farmer from a village in Yaomiao Town, Hanshan County of East China's Anhui Province, has five sons. She encourages all of them to learn her lesson and have only one child no matter if it is a boy or a girl.
"It was too hard to bring up all the children. Lots of hardships. I hope I would have fewer kids if I had a second chance," she says.
Liang is not alone. In her village, 75 per cent of the families have expressed a desire to have only one child, regardless of the baby's sex.
The local residents attribute the change in attitude to the implementation of family planning activities through the past two decades and the pilot programme Care For Girls, which has a mandate to "improve the environment for girls' survival and development."
The programme was initiated in 2000 by the local government, with support from the Information, Education and Communication Department of the former State Family Planning Commission (the present National Population and Family Planning Commission) and the Population and Economic Research Institute of Xi'an Jiaotong University.
The activities involve lectures to grandparents on gender equality to help them give up bias against girls. As well, small loans are given to families with only daughters to help them develop income-generating household economy and also to support schooling for girls.
Health examinations are given to girls to ensure they receive good care from their families.Lectures are organized to teach women with modern production skills and offer them jobs to enable them to contribute to the family income.
All these activities are designed to eliminate discrimination against girls, improve the survival environment for girls and eventually lower the surging newborn gender ratio to a normal level in three to five years.
So far, the programme has yielded positive results.
High disparity
The high gender disparity among Chinese newborns has caught the attention of demographic experts both at home and abroad since the mid-1990s.
Data from the national census indicated that the sex ratio problem has continued rising since the late 1980s. It stood at 100 girls to 108.5 boys in 1982, 100-111.3 in 1990 and 100-116.9 in 2000 in the country as a whole. The ratio has been as high as 100-130 in some areas of Hainan and Guangdong provinces.
However, the normal proportion is 100-103/107.
If the situation is allowed to continue unchecked there could be a series of social problems.
"Such serious gender disproportion poses a major threat to the healthy, harmonious and sustainable growth of the nation's population and would trigger such crimes and social problems as mercenary marriage and abduction of women," said Li Weixiong, vice-chairman of the population, resources and environment committee of the National Committee of the Chinese People's Political Consultative Conference (CPPCC).
"This is by no means a sensational prediction," said Li. "The great disparity between male and female newborns is a serious threat to building a well-off society."
He urged the government to adopt a combination of legal, economic, educational and cultural measures to address the problem.
President Hu Jintao, at a national meeting on environment and population in March, also stressed the significance of dealing with the birth imbalance. He encouraged the further promotion of the "Care For Girls" campaign, through which a new social environment featuring gender equality is fostered.
He also asked for policies in favour of families with only girls to solve their living and production difficulties.
The National Population and Family Planning Commission made "Care For Girls" one of their major tasks this year.
Pioneers of actions
Zhu Chuzhu, a 71-year-old professor with Xi'an Jiaotong University, is one of the initiators of the campaign to improve the survival rate and developmental environment for girls.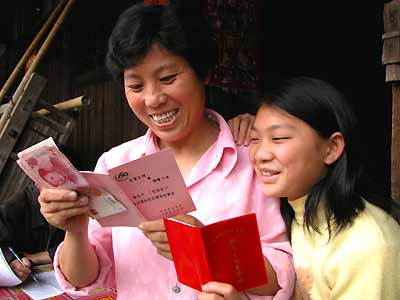 Yao Hongying from Wannian County, Jiangxi Province, smiles with her daughter after receiving 1,000-yuan (US$120) reward and a pension scheme from the local "Care for Girls" programme on May 19. Yao has only one daughter. [newsphoto/file]
Born in 1933 in Anhui Province and a graduate of Fudan University in Shanghai, Zhu first noticed the gender disparity problem in the mid-1990s when she learned from national surveys that the death rate of girls in some rural areas was much higher than that of boys.
At that time there was no research being conducted on the mortality difference between boys and girls under the age of 4 years.
Zhu and her colleagues selected a county in Shanxi Province, one of the places that reported a higher death rate of female children, for their research.
They found that apart from prenatal sex selection of unborn children, the survival environment was not so favorable for girls. More boys were delivered in hospitals while girls were mostly born at home; boys were fed with better and more nutritious foods than girls; boys were sent to hospital more quickly when they got ill, while many girls were cared for at home and had to rely on their own resistance to illnesses.
From their research, Zhu's team concluded that son preference is the fundamental factor in the traditional birth culture which exists universally in rural communities. They also concluded that low fertility resulting from rapid socio-economic development and family planning programmes was a conditional factor.
Studies in other nations also concluded that birth culture plays a key role. In the Republic of Korea, for example, where no family planning is implemented, people still prefer boys. The situation is very similar in some other countries and regions including India and China's Taiwan, Zhu told China Daily.
The scholars further tested the theory through investigations in three counties where family planning is well entrenched and normal newborn gender ratios are maintained.
In Songzi County of Hubei Province, it is common that husbands settle down in their wives' homes and take care of her parents.
The villages do not discriminate against husbands who marry into and live with their wives' families, even though the traditional concept still holds bias towards them in some rural areas. And the husbands enjoy the same rights as other men in the village in terms of land allocation and other welfare affairs.
Investigation showed that about 27 per cent of the families in the county are families in which husbands have joined their wives' homes, according to Zhu.
The scholars believe such a practice has guaranteed the rights of families with daughters and thus has an important role in the balance of sex ratio at birth in Songzi County.
Zhu said they hoped to reform the traditional birth culture. With a new concept which highlights gender equality and helps improve living conditions for girls, the mortality rate of girls in rural areas can then be reduced.
Beginning in 2000, they selected Chaohu City of Anhui Province for pilot work to improve the survival environment for girls through reforming the birth culture.
They established a Chaohu steering committee for improving girls living conditions. Xi'an Jiaotong University dispatched seven experts as advisers for the project.
With funding from the US Ford Foundation and local government, they set up a Women Development Fund through which they made small loans to women and taught them income-generating farming and by-products production technology. Meanwhile, lectures were given to women to change their ideas about life and birth.
They paid visits to families with girls, once every six months, in order to better protect the girls.
Special lectures were given to mothers-in-law to explain laws and regulations on protecting women and infants, and they were shown cases in which violators were punished in accordance with the law.
They also told them stories of successful women such as Olympic champions, ministers, and Zhu herself, who has become a model to show that women can be successful in their career and have a higher social status.
One grandma told Zhu she already had one granddaughter, and had planned to abandon the second grandchild if it happened to be a girl. Now she said she was convinced that boys and girls are the same, and they can also make great success like Zhu.
The programme has so far been expanded to over 300 counties across the country.
Caring and planning
Some people say that once the family planning policy is abolished, the gender balance will stabilize.
Zhu doesn't agree. "Bias against girls is not something new; it has existed for a long time in our history," she argued.
On the other hand, any policy, including the family planning policy, can have both positive and negative sides.
"It is true that without a family planning policy gender balance might not be so serious as we see today. Yet in the long run the population which would keep growing uncontrolled would eventually pose a threat to national security. By then, nothing could be done at all," she stresses.
The professor suggests the best practice is to integrate the "Care For Girls" programme with the nationwide family planning work.
Today's Top News
Top China News

China, Russian military drill planned for next year




Bird flu case rated 'isolated' occurrence




HK's health chief quits over SARS




Japan's sea exploration sparks tension




Power shortage: 6,400 factories to go off-line




Flooding kills 288 in 22 areas across China