Oceanic odyssey remains a treasure
(China Daily)
Updated: 2004-07-08 01:51
Question for the ages: Who circumnavigated the globe 87 years before Italian explorer Cristopher Columbus (1451-1506) and 114 years before Portuguese explorer Ferdinand Magellan (1480-1521)?
Answer: Zheng He (1371-1433) of the Ming Dynasty (1368-1644).
The ancient Chinese mariner travelled to the West seven times from 1405 to 1433, sailing more than 50,000 kilometres and visiting 37 countries and regions.
Historical studies suggest his expeditions were unsurpassable among his contemporaries in terms of the size of the fleets, the navigation technology, the duration and organization.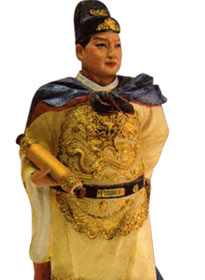 A waxwork of ancient Chinese mariner Zheng He (1371-1433) [newsphoto]

That tells why Zheng He is still remembered today as one of the world's greatest navigators and a source of pride for the whole Chinese nation.

To prepare to mark the 600th anniversary of Zheng's first voyage next year, the country has set up a directorate headed by Minister of Communications Zhang Chunxian to stage a massive celebration.

On July 11, 1405, Zheng set sail on his first oceanic odyssey with a fleet of 208 ships and 27,800 sailors.

Xu Zuyuan, vice-minister of communications, told a news conference organized by the State Council Information Office that colourful commemorative activities have been planned for the anniversary.

They include a commemoration conference to be held in Beijing next July, an exhibition and a TV feature programme on Zheng's extraordinary navigational feats.

Meanwhile, Shanghai will hold an international maritime expo between July 8 and July 15, 2005 and a series of national contests, seminars and international symposiums will be organized around the country between now and 2005.

Xu said the festivities are will "carry forward the fine Chinese tradition of loving peace and fostering good-neighbourly relations to promote world peace and social development.

"During his seven voyages to the West, Zheng He treated other countries with friendship and respect instead of occupying a single piece of land, establishing a fortress or seizing any treasure," Xu noted.

The official extended invitations to all interested parties from across the globe to participate in the commemoration and to share their research on the royal eunuch daring expeditions.

During his 28-year naval career, Zheng sailed from China to places in the South Pacific, Indian Ocean, Persian Gulf and Africa, according to historical documents.

The flagship of his fleet, named the "Treasure Ship," was a four-storey, nine-masted vessel measuring 440 feet, nearly 1.5 times the length of a football fields and five times that of Columbus's ship.

Zheng He's journeys also stimulated a number of important maritime inventions, including central rudders, watertight compartments and various new types of sails.

In fact, Zheng He is so renowned in the world's marine navigation history that some researchers have argued it was Zheng rather than Columbus who discovered America first.

Gavin Menzies, a retired British Royal Naval Submarine Commanding Officer, put forward the theory in his book, "1421: The Year China Discovered the World."

In the book published in 2002, Menzies cited overwhelming evidence to support his concept that Chinese ships under the command of Zheng reached America 70 years before Columbus, who sailed across the Atlantic to reach America in 1492.

Asked to comment on the engrossing concept, vice-minister Xu said, Menzies' idea "is still under academic research and an uniformed conclusion has yet to be reached on it."

Xu, however, expressed his sincere admiration and appreciation about Menzies' extensive research on Zheng navigational pursuits.




Today's Top News
Top China News

Bird flu case rated 'isolated' occurrence




HK's health chief quits over SARS




Japan's sea exploration sparks tension




Power shortage: 6,400 factories to go off-line




Flooding kills 288 in 22 areas across China




Bribery involved in Xi'an lottery fraud