Rice to visit Beijing this week
By Li Jing (China Daily)
Updated: 2004-07-07 01:30
Dr Condoleezza Rice, US National Security Adviser to President George W. Bush, will visit China from July 8 to 9, Chinese Foreign Ministry spokeswoman Zhang Qiyue said Tuesday.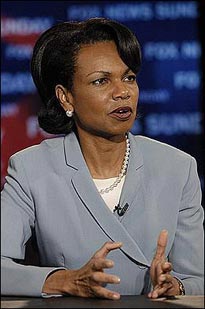 US National Security Adviser Condoleezza Rice appears on Fox News June, 2004 from a location in Istanbul, Turkey. Rice will visit China this week, the Chinese foreign ministry said for talks set to be dominated by tensions over Taiwan, the North Korean nuclear issue and Iraq. [AFP]

She and Chinese officials are expected to discuss a long list of topics related to the Sino-US relations and international affairs that both are concerned, Zhang said at a regular news briefing.

But she did not release the specific subjects for the upcoming talks.

When asked whether the Taiwan issue would be placed on the table, Zhang confirmed it would, adding the issue is at the core of Sino-US relations and also a most delicate one.

"The smooth development of bilateral relations depends on whether the issue can be handled properly," said Zhang.

"In other words, the US adherence to the one-China policy and the three joint communiques is the political basis for the healthy development of the two sides' relationship," said Zhang.

She said China expects the United States to continue following the one-China policy and the three Sino-US joint communiques, and to oppose Taiwan independence.

The spokeswoman Tuesday also announced that German Vice-Chancellor and Foreign Minister Joschka Fischer will pay an official visit to China from July 14 to 16.

The Sino-African relationship was another highlight at Tuesday's briefing. Zhang said a Chinese delegation headed by Vice-Foreign Minister Qiao Zonghuai is to participate in the African summit between July 6 and 8 and State Councillor Chen Zhili will visit three African countries from July 11 to 20.

Qiao will hand in a letter of congratulations from the Chinese Premier Wen Jiabao to the third summit of the African Union that is being held in Addis Ababa, Ethiopia, according to Zhang.

She said the three African countries Chen will visit is the Republic of South Africa, the Republic of Zimbabwe and the United Republic of Tanzania.

And Chen will also attend the opening ceremony in South Africa of the Voyage of Chinese Culture to Africa that will pass through 11 African countries, said Zhang.




Today's Top News
Top China News

Taxes, fees no longer to target farmers




Bird flu case found after 4-month gap




Rice to visit Beijing this week




China to upgrade ties with Gulf countries




South-South effort touted




Fake milk powder victims launches lawsuit