Bird flu case found after 4-month gap
By Zhao Huanxin (China Daily)
Updated: 2004-07-07 01:28
Bird flu was detected in China for the first time in nearly four months after the country declared victory over the virus, the Ministry of Agriculture said Tuesday night.
The national bird flu reference laboratory Tuesday confirmed chickens in East China's Anhui province were killed last Saturday by the deadly H5N1 strain of bird flu virus.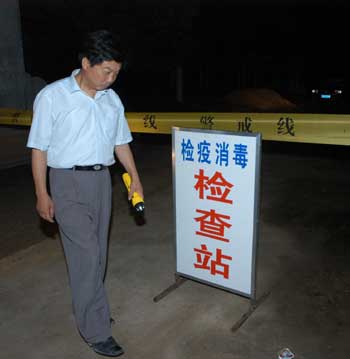 A checkpoint has been set up to quarantine all vehicles going into or out of the affected area. [newsphoto]


Experts suspect the outbreak was caused by migratory birds.

The virus was found at a chicken farm in the Juchao District, Chaohu in Anhui.

Local veterinaries initially diagnosed the death from a probable fatal bird flu contagion on July 3, and reported the case to the Ministry of Agriculture.

The ministry immediately dispatched a panel of experts to the affected area.

In accordance with China's Law on Animal Epidemic Prevention, local health authority destroyed all the poultry within a three-kilometre radius of the chicken farm and vaccinated all the poultry within a 5-kilometre radius of the affected area.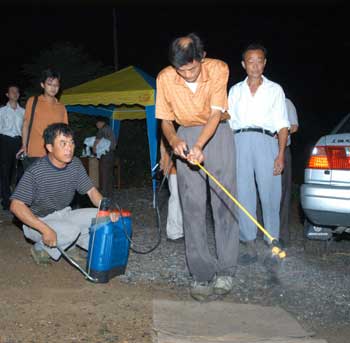 Workers spray disinfectants around the area. [newsphoto]


Investigations indicate the farm is located on a slope in a rather separate environment close to the Chaohu Lake and all the chicks of the farm were bought from local bird-flu-free markets.

Therefore, experts suggested the virus was spread by migratory or wild water birds.

The new case seemed to echo an earlier warning made by Jia Youling, a Ministry of Agriculture official, who said in March that there was still a risk of new outbreaks, perhaps caused by water fowl or migratory birds.

Jia was not available to comment last night.

He said on March 16 China had stamped out the disease after ending isolation in the last of 49 hotbeds.

The ministry has informed the Food and Agriculture Organization of the United Nations about the new case as well as the World Health Organization and authorities in Hong Kong, Macao and Taiwan.

A spokesman for Hong Kong's Health, Welfare and Food Bureau said last night the special administrative region will temporarily suspend the importation of live birds and poultry from the Anhui Province Immediately.

The first outbreak of the H5N1 strain of bird flu was detected on January 27 at a duck farm in the Dingdang Township, South China's Guangxi Zhuang Autonomous Region.




Today's Top News
Top China News

China regrets Koizumi's defiant words




Taxes, fees no longer to target farmers




Edwards joins Kerry's bid to unseat Bush




Bird flu case found after 4-month gap




US slaps extra duties on shrimp from China




Wartime survivor recalls childhood without joy