Chinese oracle bones auctioned at US$5.8m
(Agencies)
Updated: 2004-07-06 15:00
An anonymous bidder paid US$5.8 million at auction for a 3,000-year-old set of oracle bones - relics once used by Chinese rulers to foretell the future, auctioneers said on Tuesday.
The sale, described by auctioneers as the first of its kind, underscored the growing taste among newly rich Chinese collectors for cultural artifacts.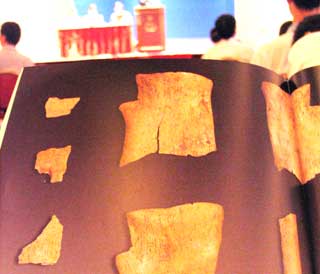 Twenty pieces of 3,000-year-old oracle bones from the Yin Ruins are actioned at a price of 48 million yuan (about US$6 million) in Shanghai July 4, 2004. The bones with inscriptions date back to the Shang Dynasty (16th-11th century BC). The buyer said the bones would be back to Anyang, Henan Province where they were found and be displayed to the public. It is reported that Anyang Museum has only 10 pieces of such oracle bones. [newsphoto]
The bones sold at the auction on Sunday date from the Shang dynasty and consist of shards of tortoise shell inscribed with questions about the weather, harvests or whether to go to war. Oracles heated the bones over a flame, then interpreted answers from the shapes of the cracks.
'There has never before been an auction of oracle bones, so this has set the record,' said Ms Zhu Yun, a spokesman for auctioneers Chongyuan Art Auction House. She declined to answer other questions.
Bidding at the auction at a luxury Shanghai hotel began at 8 million yuan (US$1 million) and rose to the final sale price of 48 million yuan (US$5.8 million) in just over five minutes, the newspaper Beijing Youth Daily reported.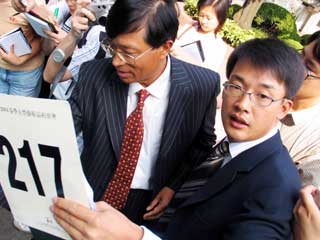 The buyer and his assistant (with bidding number) are to leave the auction site after winning the bid at 48 million yuan (about US$6 million) for the 20 pieces of oracle bones July 4, 2004. [newsphoto]
Several hundred people attended, newspapers reported.
The winning bidder rushed out of the hall immediately afterward, accompanied by two bodyguards. A horde of reporters blocked them from reaching their car and they left in a taxi instead.
Riding the country's booming economy, Chinese collectors have paid millions of dollars in recent years for rare old furniture, paintings, musical instruments and other cultural artifacts.
The oracle bones auctioned in Shanghai were bought by calligrapher Meng Guanghui in 1898 from a farmer in the countryside near Anyang, the Shang capital, news reports said.
A researcher in Beijing recovered the items in 1970 and returned them to the family of their last owner, the reports said.
Today's Top News
Top China News

Bush adviser Rice to visit China July 8-9




Former prisoner fights for state compensation




Airline to compensate for delays




19,374 civil servants fired to clean up gov't




PetroChina eyes South China Sea exploration




UK economist: No to China MES a "tragedy"