Bush adviser Rice to visit China July 8-9
(Agencies)
Updated: 2004-07-06 14:45
U.S. national security adviser Condoleezza Rice will visit China this week, the Chinese Foreign Ministry said on Tuesday, for talks expected to focus on Iraq and the crisis over North Korea's nuclear programs.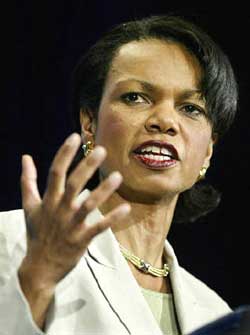 U.S. National Security Advisor Condoleezza Rice speaks at a press conference in Savannah, Georgia in this June 7, 2004 photo. [Reuters]

"The visit by Rice was just decided by the two sides," ministry spokeswoman Zhang Qiyue said, adding that the two sides are expected to discuss Taiwan and other issues during her two-day visit but declining to give details of her schedule.

Rice's Beijing stop on July 8-9 will be sandwiched between talks in Tokyo with Japanese Foreign Minister Yoriko Kawaguchi and meetings in Seoul with South Korean President Roh Moo-hyun and other senior officials.

Her visit to China, one of five permanent members of the U.N. Security Council, comes after last month's third round of six-way talks on North Korea's nuclear ambitions.

North Korea viewed the outcome of those talks, also involving Japan, South Korea, Russia and China, on its nuclear programs as broadly positive but said a U.S. proposal showed there was little new on offer to resolve the crisis.

It said the U.S. proposal for three months of preparation for dismantling the North's nuclear programs was unscientific and unrealistic.

The United States offered security guarantees and South Korean aid in return for North Korea agreeing to dismantle its nuclear programs, including a uranium enrichment scheme which the North denies it has.




Today's Top News
Top China News

Bush adviser Rice to visit China July 8-9




Former prisoner fights for state compensation




Airline to compensate for delays




19,374 civil servants fired to clean up gov't




PetroChina eyes South China Sea exploration




UK economist: No to China MES a "tragedy"