Bush: US freedom can change the world
(Agencies)
Updated: 2004-07-05 21:51
U.S. President Bush, buffeted by slumping approval ratings over Iraq, visited the campaign battleground of West Virginia on Sunday to deliver an Independence Day message brimming with confidence and optimism about the U.S. role on the world stage.
Speaking from the steps of the West Virginia state capitol, the Republican president told hundreds of cheering, flag-waving supporters that the spirit of freedom wrought by America's declaration of independence from Britain on July 4, 1776, could transform troubled places -- including Iraq and Afghanistan.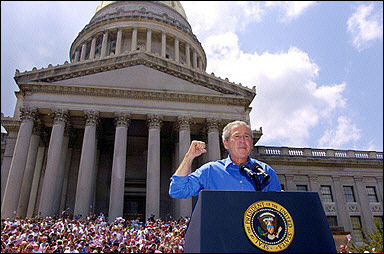 US President George W. Bush addresses an Independence Day celebration in front of the State Capitol in Charleston, West Virginia. [AFP]

"We still believe, on America's 228th birthday, that freedom has the power to change the world," Bush said in remarks laced with references to God and the courageous character of the U.S. military.


"We are proud of our founders, but I know that the founders would be proud of America today," Bush said. "They would see a nation that is the world's foremost champion of liberty. They would see a nation which stands strong in the face of violent men."

Bush's Fourth of July appearance followed a momentous week in Iraq, where U.S. authorities handed over power to an interim government and former Iraqi leader Saddam Hussein made a defiant court appearance that was televised worldwide.

THUNDERSTORMS IN WASHINGTON

Favorable developments for the Bush administration were quickly overshadowed by a continued drumbeat of bad news from Iraq, however, including military deaths culminating in the reported beheading of a captured U.S. Marine.

A spate of opinion polls showed Bush's job approval ratings scraping fresh lows and suggested the public was becoming increasingly skeptical about the value of the Iraq war and the administration's justification for the March 2003 invasion.

Analysts said the Independence Day appearance gave the president an opportunity to step outside the confines of partisan politics.

"People are looking to him with a much less partisan eye on the Fourth of July than they are on most days of the year," said Calvin Jillson, a political science professor at Southern Methodist University.

Meanwhile, heavy thunderstorms disrupted Independence Day celebrations on the national Mall, the monument-studded grassy heart of Washington. A massive evening fireworks display was expected to proceed as scheduled.

Security in the nation's capital was intense, and police closed a large portion of the Mall to vehicular traffic.

CANNOT TALK TO EXTREMISTS

In West Virginia, a state with a large number of military veterans and a conservative culture that shares Bush's opposition to abortion and gun control, the president made no references to troubled U.S. relations with major allies or Arab anger over his plan for democratic reform in the Middle East.

He praised the sacrifices of U.S. troops in Iraq and Afghanistan, including the 989 killed and 5,726 wounded in both countries as part of his administration's war on terrorism.

But, at a time when Iraq's new leadership is talking about amnesty for anti-U.S. insurgents, Bush vowed not to negotiate with "terrorists."

"You can't talk sense to them. You can't negotiate with them. You cannot hope for the best with these people. We must be relentless and determined and do our duty," he said.

Along his motorcade route stood a long line of Bush opponents waving signs for Democrat presidential candidate John Kerry and placards with messages including: "Liberate America: Re-defeat Bush" and "Gimme Some Truth."

The choice of West Virginia as Bush's Independence Day venue held a particular advantage for Bush, who faces a close election battle against Kerry.

Democrats outnumber Republicans 2-1 in West Virginia. But Bush defeated Democrat Al Gore in a stunning 52-46 percent there in 2000.

Recent opinion polls suggest Kerry, a decorated Vietnam combat veteran, could be gaining an edge over Bush in West Virginia, which controls five votes in the Electoral College.

The president's arrival was delayed by the failure of one engine on Air Force One, discovered while it was on the ground in Hagerstown, Maryland. The flight was delayed about 90 minutes as a second aircraft was flown in from Andrews Air Force Base near Washington.




Today's Top News
Top World News

Former prisoner fights for state compensation




Airline to compensate for delays




19,374 civil servants fired to clean up gov't




PetroChina eyes South China Sea exploration




EU forum focuses on IPR protection




Complaints on home demolitions soar