Iran says it has prepared complaint against Saddam
(Agencies)
Updated: 2004-07-05 10:12
Tehran has prepared a complaint against Saddam Hussein for his 1980 attack on Iran and use of chemical weapons, and will soon file the dossier with the Iraqi tribunal putting the former president on trial, the foreign ministry said.
"One of the crimes of Saddam Hussein is the attack against Iran, the deaths of Iranians, the use of chemical weapons. We have prepared a complaint which will be filed to the tribunal," foreign ministry spokesman Hamid Reza Asefi said.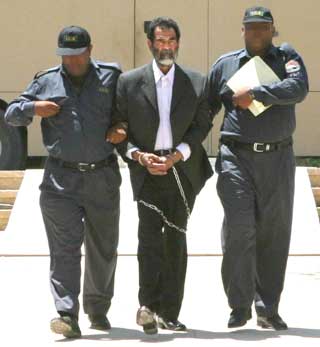 Iraq's deposed dictator Saddam Hussein arrives in shackles for his Iraqi special tribunal hearing July 1, 2004. A deflated but still defiant Saddam was brought on Thursday in chains to an Iraqi judge to hear charges that could lead to a trial for war crimes and genocide. The photo was released July 3, 2004 and taken July 1, 2004. The photos were released on July 3 after the US military censorship.[Reuters]

Urging the Iraqi court to "act with transparency and in a public manner," Asefi also complained that Saddam's 1980 land grab -- which sparked the catastrophic 1980-1988 Iran-Iraq war -- did not figure on the original list of charges.

"We have asked the Iraqis to explain why the attack on Iran did not feature among the charges against him, even though the judge said the question would be addressed at a later date," Asefi said.

Saddam, toppled last year by a US-led invasion, appeared on Thursday before the court in Baghdad which is to judge him for crimes against humanity.

But the list of seven charges against him do not relate to the Iran-Iraq war, during which close to a million people -- mostly Iranians -- were killed.

According to official figures, Iran has 45,000 registered war veterans with chemical injuries who cost the regime around 20 million dollars a year to support.

Iran has also alleged Iranian prisoners were tortured and executed in captivity.

Saddam's 1990 invasion of US ally Kuwait and his gassing of the Iraqi Kurd border town of Halabja in 1988, however, do feature on the charge sheet.

In Iran's new conservative-held parliament Sunday, speaker Gholam-Ali Haddad Adel denounced the trial as "American".

"We deputies demand an open and comprehensive trial for Saddam, and condemn any staged act," he told the Majlis.

"The Iraqi attack on Iran was the most important chapter in Saddam's dossier. The prosecutors will have to reveal if they really intend to prosecute him for his crimes or if this will be a show trial," he added.

On Friday, Iran's influential former president Akbar Hashemi Rafsanjani said Saddam's trial should be totally public and denounced the fact that the Iran-Iraq war was not among the main charges.

"Saddam's trial must be completely public.

"It is necessary to let Saddam express himself, that the Americans express themselves, that we ourselves can express ourselves and that people say what they have to say," Rafsanjani told Friday prayers carried by state radio.

"Saddam's extraordinary crimes must be exposed but from the first words pronounced by Saddam the Americans imposed censorship and broadcast only what they wanted," he said, calling it a "shame for the United States".

"If the Iraqi court refuses to include (Saddam's responsibility) in the unleashing of the war against Iran, it means it is on an order from the Americans."

Rafsanjani had also said that a trial covering Saddam's use of chemical weapons would serve to expose Western support for the ousted Iraqi dictator as he battled Iran's young Islamic revolution.

Saddam's Iraq insisted it was Ayatollah Ruhollah Khomeini's forces who provoked the war with border shelling and skirmishes, as well as by threatening to export Tehran's Islamic revolution of 1979.




Today's Top News
Top World News

Experts: Interest rate rise not likely in short term




Farmers' income to jump 5% this year




Legal 'savior' fighting for his fees




Fire destroys Mao's former Wuhan residence




Schools: Aid students seeking jobs




Kim Jong-il wishes to visit Seoul -- report