Culture links enrich Beijing, Paris ties
By Chang Tianle (China Daily)
Updated: 2004-07-05 09:33
PARIS: Culture is playing a significant role in the all-round strategic partnership between China and France as the two countries seek to enrich and extend their relationship, senior leaders from the two countries said at closing ceremonies of the China Culture Year in France on Friday.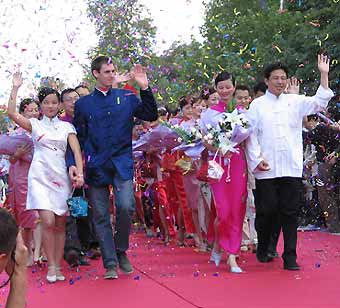 More than 30 new couples hold a group wedding in the Tuileries Gardens in downtown Paris on Saturday, when the Paris Shanghai Week opened as part of the Chinese Culture Year that ends this month. [Xinhua]
The 10-month event comes to an end this month as France prepares for its culture year in China beginning this October. French President Jacques Chirac is scheduled to visit China then.
Li Changchun, member of the Standing Committee of the Political Bureau of the Communist Party of China Central Committee, said the China-France Culture Year programme is a brilliant event between the countries, promoting exchanges of the nation's pageantry and history.
Both Chirac and Li spoke highly of the bilateral cultural exchanges at their meeting on Saturday.
Chirac said the "Chinese Culture Year in France" is a big success as a result of the increasingly closer cultural exchanges between the two nations.
"The excellent France-China political relations have provided profound basis for the prosperous bilateral cultural exchanges, which have, in return, facilitated the all-around development of bilateral ties," he said.
Earlier, in his speech at the historical Chateau de Versailles suburb of Paris, Li said, "China highlights the Sino-France relationship. We would like to work with France to enrich and extend the all-round strategic relationship, as well as promote our exchange in politics, economics and culture."
French Prime Minister Jean-Pierre Raffarin echoed Li's views, saying both countries are committed to a comprehensive partnership.
The China-France Culture Year was initiated by former President Jiang Zemin and his counterpart Jacques Chirac during their state visits in 1999 and 2000.
The two countries later agreed to set up cultural centres and hold culture years in one another's country.
Themed "Ancient China, Diversified China and Modern China," the Chinese Culture Year in France started last October and has presented China from a panoramic cultural perspective - from glorious ancient cultural achievements to innovative and progressive contemporary art.
More than 300 Chinese cultural events have taken place across France in the past 10 months, including exhibitions, performances and seminars, making it the largest culture exchange programme for both countries.
The climax came in January when President Hu Jintao visited France to celebrate the 40th anniversary of diplomatic relationship.
During his visit, Chinese people in Paris went on a grand parade on the Champs-Elysees, with 7,000-plus performers, and a number of floats to showcase Chinese culture.
About 700,000 Parisians lined up along the avenue to experience the China sensation, which is the first time a foreign country has presented such an event in Paris.
"All these events received overwhelming response from French people," said Raffarin.
He said France will utilize all resources to organize an equally successful culture year in China.
Li said the culture year programme is also a contribution to world cultural diversity, showing that different civilizations should, and are able to learn and borrow from one another.
On Saturday local time, the Paris Shanghai Week of the Chinese Culture Year in France opened.
Today's Top News
Top China News

Experts: Interest rate rise not likely in short term




Farmers' income to jump 5% this year




Legal 'savior' fighting for his fees




Fire destroys Mao's former Wuhan residence




Schools: Aid students seeking jobs




Kim Jong-il wishes to visit Seoul -- report