Israel strikes Gaza workshops in day of violence
(Agencies)
Updated: 2004-07-05 08:38
Israeli helicopter gunships fired missiles into metal foundries in the Gaza Strip late on Sunday after a day of renewed violence in which three Palestinians and an Israeli settler were killed.
A Palestinian militant was killed trying to infiltrate a Jewish settlement, another Palestinian was shot dead after a car-chase involving Jerusalem police and a youth was killed in a Gaza town.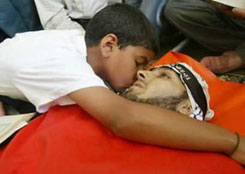 In this photo, a Palestinian boy kisses the body of Mahmoud Lahwani in the Balata refugee camp near the West Bank city of Nablus July 4, 2004 a day after he was shot dead by Israeli army during clashes at the camp. [Reuters]

Earlier, Palestinian gunmen shot dead a 49-year-old settler in an ambush on a West Bank road claimed by the al-Aqsa Martyrs Brigades, an armed group in Palestinian President Yasser Arafat's Fatah faction.

Late on Sunday, six people were wounded when Israeli helicopters fired missiles at the two metal foundries in Gaza. Israel has stepped up such attacks against workshops it says are used to manufacture rockets fired into its territory from Gaza.

The missiles tore through a foundry in Gaza's Jabalya refugee camp, sending glass and debris flying and causing panic among residents living in the upper-floors of the apartment building.

Missiles also hit a metal workshop in Gaza's Zeitoun neighborhood. The Israeli army said both workshops were used to manufacture Qassam rockets fired by Palestinian militants in recent days toward the nearby Israeli town of Sderot.

Violence has surged since Israeli Prime Minister Ariel Sharon said he planned to evacuate settlers and soldiers by the end of next year, as Palestinian militants and the army vie for supremacy in Gaza before a withdrawal.

NORTHERN GAZA TENSE

Israeli troops have been operating around the Gaza border town of Beit Hanoun since a rocket militants fired from the area killed a three-year-old Israeli boy and a man aged 49 in the Israeli town of Sderot on June 27.

Military sources said the soldiers could remain in northern Gaza for months to prevent further rocket attacks. Despite the military operation, militants fired several makeshift rockets toward southern Israel on Sunday, causing no casualties.

In Jerusalem, Israeli paramilitary border police in civilian clothes killed a Palestinian after chasing his vehicle on suspicion that it was carrying Palestinians without entry permits, a police spokesman said.

A police spokesman said the van pursued tried to "run down one of the policemen ... and then pulled over and stopped. The driver got out and fled on foot.

"Police fired in the air, and when he didn't stop, shot toward him. He was fatally wounded," he said. Israel Radio said police had launched an internal investigation into the incident.

Several hours earlier soldiers killed a Palestinian gunman the army said was trying to slip into Har Bracha settlement near Nablus to carry out an attack. Residents of his village said he belonged to the militant Islamic Jihad group.

In Gaza, a 17-year-old boy was killed by Israeli gunfire at the entrance to Beit Hanoun, Palestinian medical sources said. Doctors said two other youths were hit in the legs by bullets.

Military sources said troops opened fire to disperse a riot at the entrance to the town, hitting the ring-leader.

A Palestinian opinion poll released on Sunday showed almost half of Palestinians oppose Egypt's offer of a security role in Gaza if Israel pulls out, underscoring deep-seated concern that it would serve only Israeli interests.

It also found surging popularity for Islamic militants who fear an Egyptian presence could tie their hands in conflict with Israel if the Jewish state carries out its plan to keep Gaza sealed off and annex parts of the West Bank after a pullout.




Today's Top News
Top World News

Experts: Interest rate rise not likely in short term




Farmers' income to jump 5% this year




Legal 'savior' fighting for his fees




Schools: Aid students seeking jobs




Iraq militants claim beheading US Marine




Fire destroys Mao's former Wuhan residence