Kim Jong-il wishes to visit Seoul -- report
(Agencies)
Updated: 2004-07-04 21:36
North Korean leader Kim Jong-il has told Chinese leaders he wished to visit the South "at an appropriate time," Yonhap news agency on Sunday quoted an aide to a former South Korean president as saying.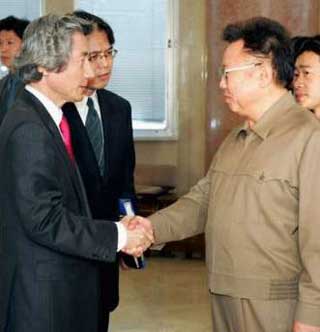 North Korean leader Kim Jong-il (right) shakes hands with Japanese Prime Minister Junichiro Koizumi in this May 22, 2004 photo before they started talks in Pyongyang. [Reuters]

Kim Han-jung accompanied former South Korean president Kim Dae-jung on a visit to China that ended on Saturday.

"It is something we heard from a high-level official in the Chinese government who met with Chairman Kim Jong-il during his China visit in April," Yonhap quoted Kim Han-jung as saying.

Kim Dae-jung traveled to Pyongyang in June 2000 for the only meeting between leaders of the two Koreas.

The North Korean leader pledged at the summit to make a return visit to the South, but has yet to do so.

The two Koreas are technically at war because the 1950-53 Korean War ended with a truce and not a peace treaty.

The 2000 summit helped ease tension between the two Koreas, which remains divided by the world's most heavily fortified border while commercial ties begin to take shape.

South Korea's National Security Council spokeswoman Lee Ji-hyun said the government was not aware of the suggestion the North Korean leader may have made to Chinese leaders.

South Korea's ruling Uri party last week urged Kim Jong-il to visit the South as pledged four years ago.

But President Roh Moo-hyun has said the "appropriate time" would come once an international standoff over Pyongyang's nuclear ambitions begins to be resolved.

Three rounds of negotiations by six parties -- the two Koreas, the United States, Japan, China and Russia -- aimed at dismantling the North's nuclear programs have made little progress.

North Korea wants energy aid and a formal guarantee of nonaggression from the others with the United States as a essential participant.

The United States has given the North three months to disclose all nuclear programs for inspection and freeze them, followed by complete dismantlement.




Today's Top News
Top World News

Summer harvest helps stabilize consumer prices




Iraq militants claim beheading US Marine




Fire destroys Mao's former Wuhan residence




China-US trade relations face challenges




Typhoon Mindulle kills 15 in Taiwan




China opposes foreign interference in HK