Fire destroys Mao's former Wuhan residence
(Xinhua)
Updated: 2004-07-04 21:15
The fire in late Chairman Mao Zedong's former residence was put out at 2:30 p.m. Sunday afternoon in Wuhan, capital of central China's Hubei Province.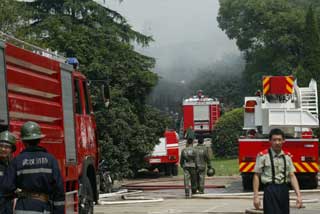 Thick smoke shrouds the area of late Chairman Mao Zedong's former residence in Wuhan after the fire was put out July 4, 2004. [newsphoto]

The top of the No.3 Building in Meiling compound is collapsed, while the structure above the second floor and piles of decoration materials stored inside were burnt into ashes, according to a Xinhua journalist who visited the spot.

A dozen of fire engines joined the efforts to extinguish the fire. No casualties have been reported yet and cause of the fire is still under investigation.

Sources said that a team of construction workers were in the building to refurbish the interior of a meeting room before the fire.

Meiling had been the most important residence for Chairman Mao in his later years of life except Zhongnanhai, the compound of the Chinese government in Beijing.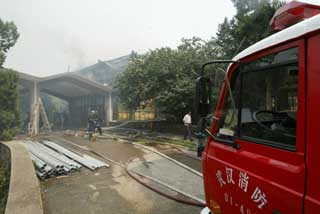 Smoke arises from the late Chairman Mao Zedong's former residence in Wuhan as firefighters try to extinguish the fire July 4, 2004. [newsphoto]

Started its construction in 1960 with three main buildings, the compound was delicately built and dotted with various plants treasured by Chairman Mao, including bamboo, pines and Chinese plum.

Chairman Mao frequently stayed in the residence for one month to half a year each year in his late period of life.

At Meiling compound, he had dealt with various domestic or international affairs and met with celebrities from home and abroad.

Chairman Mao once wrote in a letter in the 1960s, describing Meiling as a place with "white clouds and yellow cranes", a Chinese poetic way to depict an undisturbed sanctuary.

Meiling compound was opened to the public in 1993 to receive tourists who want to get glimpses of Chairman Mao's daily life in his later years.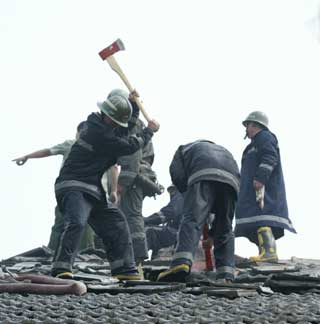 Firefighters try to dismantle the roof of late Chairman Mao Zedong's former residence in Wuhan in order to put out the fire July 4, 2004.[newsphoto]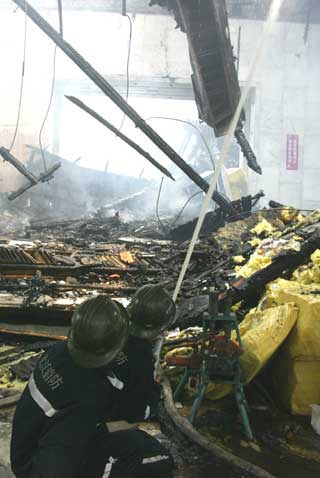 Firefighters use water cannon to put out the fire inside the building July 4, 2004. [newsphoto]
Today's Top News
Top China News

Summer harvest helps stabilize consumer prices




Iraq militants claim beheading US Marine




China-US trade relations face challenges




Fire destroys Mao's former Wuhan residence




Typhoon Mindulle kills 15 in Taiwan




China opposes foreign interference in HK