Gadhafi's daughter joins Saddam's defense team
(Agencies)
Updated: 2004-07-03 16:37
The daughter of Libyan leader Moammar Gadhafi will help defend Saddam Hussein in court, a Jordanian lawyer and member of the legal team representing the former Iraqi dictator said Friday.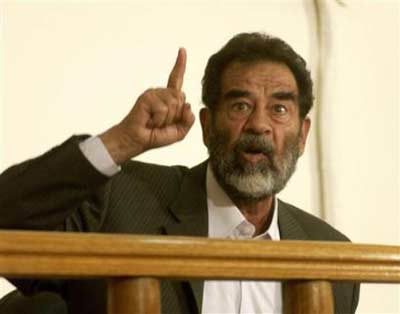 Saddam Hussein appears in a courtroom at Camp Victory, a former Saddam palace on the outskirts of Baghdad, Thursday, July 1, 2004. Downcast but defiant, Saddam questioned the judge's authority and saying the "real criminal" was U.S. President Bush. Saddam, who arrived at the courthouse in handcuffs and chains, was read seven charges under a preliminary arrest warrant and told his rights, pool reporters granted access to the heavily guarded proceedings said. [AP Photo]
Aicha Moammar Gadhafi, a law professor, will form a Libyan law experts team to defend Saddam Hussein, Ziad al-Khasawneh said.
"The daughter of the Libyan president is welcomed to join us, and we consider her as an official member of the team," he said.
He added that the Jordanian-based multinational defense team had telephoned Gadhafi on Thursday to offer their thanks.
A statement issued late Thursday by a charity association headed by Gadhafi's daughter, in her late 20s, said she wanted to guarantee Saddam received a "fair trail (based on) the principle that all accused should be presumed innocent until proven guilty."
The statement, from the association's office in the Libyan capital, Tripoli, said several Libyan lawyers will join Saddam's defense team, which already includes lawyers from Jordan, Lebanon, Tunisia and Western countries such as the United States, Britain, France and Belgium.
Saddam and 11 other defendants, all former members of the ousted Iraqi regime, faced court in Baghdad for the first time Thursday on war crimes and genocide charges.
Defense lawyers were not present for the brief arraignment.
Saddam's lawyers have complained of being kept in the dark concerning their client's case, because they did not receive answers to their request to the American administration, the International Committee for the Red Cross and the Iraqi authorities to meet with the ex-Iraqi leader and be present when he was indicted.
Al-Khasawneh said a member of the team, top Arab Lawyers Union official Mohammed al-Alaqi, arrived Thursday in Jordan from Libya to help in Saddam's defense.
Jordanian Mohammed Rashdan, who heads the defense team, is waiting in Amman for assurances that the team can safely travel to Iraq.
Rashdan, affiliated with Saddam's collapsed Baath Party, has represented the former Iraqi regime in several cases.
His team includes Washington lawyer Curtis Doebbler and French attorney Emmanuel Ludot.
Days after Saddam's December 13 capture, the former dictator's wife, Sajida Khairallah Telfah, asked Rashdan to defend her husband, the lawyer said.
Ziad Tariq Aziz, the son of former Iraqi Deputy Prime Minister Tariq Aziz, appointed Rashdan's team Thursday to defend his father.
At an Arab summit in May, Gadhafi said he was "disgusted" that the 22-member Arab League had not done enough to represent Saddam.
"What's the significance of this Arab gathering?" Gadhafi said before packing up and leaving the summit venue, Tunis. "How can this summit convene while there are two Arab presidents in jail?
Gadhafi was referring to Saddam and Palestinian leader Yasser Arafat, who has been holed up in his West Bank headquarters for more than two years, besieged by Israeli forces.
Today's Top News
Top World News

Stress kills workaholic academics at young age




Efforts urged to curb floods, drought




China opposes foreign interference in HK




Ministry battles telecom price wars





Sino-US trade relations hit rough patch




Migrant workers given classes on AIDS