Seven die in plane crash at Panama airport
(Agencies)
Updated: 2004-07-03 09:15
A U.S.-registered small jet crashed into an airport hangar during takeoff Friday and burst into flames, killing seven people, officials said.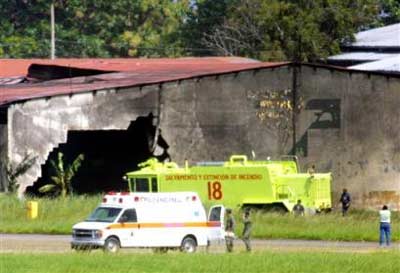 Ambulances and firefighting vehicles are parked outside as workers inspect the hangar where U.S.-registered small jet apparently being used to ferry a patient from Ecuador to Washington, D.C. crashed at a Panama City airport, Friday, July 2, 2004. Four people were killed. [AP Photo]
The dead included all six people aboard the aircraft and a Panamanian man on the ground. The U.S. Embassy said it was trying to confirm reports that four Americans and two Italians were aboard the plane.
The plane, which was ferrying a patient from Ecuador to Washington, D.C., crashed at Panama City's Tocumen international. Witnesses reported hearing an explosion and then saw a ball of fire and smoke.
"All those aboard were killed," said Humberto Chavarria, assistant director of Panama's Civil Aviation Authority. "The pilot lost control, veered off course and crashed."
He said the tank exploded upon impact and the plane was destroyed.
The plane had stopped in Panama to refuel. Other flights at the airport continued normally Friday, authorities said.
Today's Top News
Top World News

Stress kills workaholic academics at young age




Efforts urged to curb floods, drought




US may impose quota on Chinese textile




Ministry to enhance supervision on telecom




UK indicts three in shell-fish drownings




Migrant workers given classes on AIDS